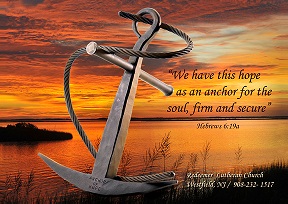 MESSAGE OF HOPE FOR THE NEW YEAR!
We are entering a new year and we don't know what is waiting on us … is there going to be pain and heartache, is there going to be tears and sickness, is there going to be more troubles, worries and stress, will things turn out the way we hope for …?
For this year: Let us choose HOPE, let us make a choice FOR the One who is the source of hope, that One is GOD. Let us put our hope in Him for every one of the 366 days of this year, for every one of the 527 040 minutes of this year!

Once you choose hope, anything is possible, because Jesus said, "The things that are impossible for people to do are possible for God to do." (Luke 18:27)
"May the God of hope fill you with all joy and peace as you trust in Him, so that you may overflow with hope by the power of the Holy Spirit" (Rom 15:13)
HOPE IS ….
"My prayer is that light will flood your hearts and that you will understand the hope that was given to you when God chose you. Then you will discover the glorious blessings that will be yours together with all of God's people". (Eph 1:18)
Someone said: "Hope is putting faith to work when doubting would be easier"
To have hope, asks for faith and trust in God, for dependence on Him, for commitment to Him, for unfailing courage and perseverance.
Christian hope is not to wish for things, or think that maybe this or that will come true; it is to have assurance that God will do what He promised, for instance that He is in control, that He made us His children, that nothing can separate us from His love, that no one can snatch you from His hand, that He will forgive us when we confess our sins, that He will give us eternal life, that He will protect us and provide for us, that He will give the Holy Spirit to those who ask, that we can live in His presence daily ….
If you do not have hope, you will be discouraged, dispirited, cheerless, broken and despondent, without expectation and without persistence.
ANCHOR OF HOPE
In the Bible hope is compared to a safe and sure anchor:
We have this hope as an anchor for our lives. It is safe and sure … (Heb 6:19)
The purpose of an anchor:
- to prevent the boat to be dashed against rocks, and break up and perish
- to resist wind, currents and waves
- to keep the ship or boat steady and firm in any difficult or dangerous circumstances.
We are the ship, hope is the anchor, and the unseen holding ground and unmovable anchor point is Jesus.
HOLDING GROUND FOR THE ANCHOR
Can we anchor our hope on money?
· .. if your wealth is increased, do not put your hopes on it. (Ps 62:10)
· Confidence placed in riches comes to nothing. (Prov 11:7)
· Give orders to those who have money and goods in this life, not to … put their hope in the uncertain chances of wealth, but in God (1Tim 6:17)
Can you anchor your hope on yourself?
· … we should rely, not on ourselves, but only on God (2Cor 1:9)
Can any person be an anchor of hope for us?
· Don't put your trust in human leaders; no human being can save you. When they die, they return to the dust; on that day all their plans come to an end. (Ps 146:3-4)
· Stop trusting the power of humans. They are all going to die, so how can they help? (Isaiah 2:22)
Anchor your hope in God alone
· We put our hope in the LORD; He is our protector and our help. (Ps 33:20)
· What, then, can I hope for, Lord? I put my hope in You. (Ps 39:7)
· I depend on God alone; I put my hope in Him. (Ps 62:5)
· The LORD is all I have, and so in Him I put my hope. (Lam 3:24)
Anchor your hope in God's Word and His promises
· Remember the word You gave me. Through it You gave me hope. (Ps 119:49)
· You are my Defender and Protector; I put my hope in Your promise. (Ps 119:114)
NOT ONLY A TEMPORARY ANCHOR
Do not "use" Jesus only as a temporary anchor, only for the "here and now" things. "If our hope in Christ is good for this life only and no more, then we deserve more pity than anyone else in all the world". (1Cor 15:19)
HELP! MY HOPE IS CRUSHED …
Maybe you are in a situation today where you may feel crushed and discouraged, where you feel that you have no hope, no anchor in life, no expectation of a bright future.
· Do not turn away from God
The Bible warns us, that when we try to live without God, or turn away from Him and disobey His commandments, we can expect to loose hope:
"Reeds can't grow where there is no water; they are never found outside a swamp. If the water dries up, they are the first to wither, while still too small to be cut and used. Godless people are like those reeds; their hope is gone, once God is forgotten. (Job 8:11-13)
· Anyone who is alive, has some hope
- As long as we are alive, we still have hope, just as a live dog is better off than a dead lion. (Ecc 9:4)
- There is hope for a tree that has been cut down; it can come back to life and sprout. (Job 14:7)
· In the darkest hour, God can give you new hope
- The LORD is near to those who are discouraged; He saves those who have lost all hope. (Ps 34:18)
- Good people suffer many troubles, but the LORD saves them from them all (Ps 34:19)
· Turn to God, call on Him – He will restore your hope
- They were hungry and thirsty and had given up all hope. Then in their trouble they called to the LORD, and he saved them from their distress. (Ps 107:5-6)
- Come near to God and He will come near to you. (James 4:8)
· Eyes and mind on Jesus
We must keep our eyes on Jesus, who leads us and makes our faith complete … So keep your mind on Jesus ... Then you won't get discouraged and give up. (Heb 12:2-3)
· Remind yourself of the facts about God
Yet hope returns when I remember this one thing: The LORD's unfailing love and mercy still continue (Lam 3:21-22)
· Choose hope, choose praise
Why am I so sad? Why am I so troubled? I will put my hope in God, and once again I will praise Him, my Saviour and my God. (Ps 42:5)
· Look on the bright side
There is a saying: "Don't lose hope. When it gets dark, the stars come out".
MARINER'S CROSS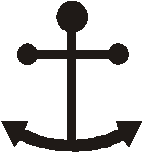 This symbol is called the mariner's cross. It is an anchor that is in the shape of a cross, and it signifies "fresh start" and "hope".
· The cross: hope
As Christians our hope is on the cross and the price that Jesus paid for us by dying in our place on the cross. That is our real anchor for this life and for eternal life. "Christ himself carried our sins in his body to the cross, so that we might die to sin and live for righteousness". (1Pet 2:24)
For this new year, 2008, let us proclaim together with Paul:
"I made up my mind to forget everything except Jesus Christ and especially his death on the cross". (1Cor 2:2)
· The cross: a fresh start
At the cross there is always an opportunity for a fresh start. Now is the time to leave all your worries with Jesus, to confess your sins and turn away from the wrongdoings, to open your heart to Him and accept Him as Saviour and Lord of your life. Put your anchor of hope in HIM and start a new life with the new year: "Anyone who belongs to Christ is a new person. The past is forgotten, and everything is new". (2Cor 5:17)
SWING RANGE
It is true that even when a ship is safely anchored, it can still be shaken and blown about by the wind. If the anchor is good and anchored in strong holding ground, the ship will not be wrecked, the ship will not sink.
We as Christians, even though we are safely anchored in God, can experience some trials and troubles. Remain faithful to God in times like this, use the opportunity to grow spiritually and to "test your anchor".
We gladly suffer, because we know that suffering helps us to endure. And endurance builds character, which gives us a hope that will never disappoint us. (Rom 5:3-5)
TAKE HOLD OF THE HOPE THAT IS RIGHT IN FRONT OF YOU