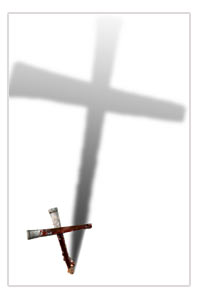 A LIFE CHANGED BY THE CROSS
A young man who had been raised as an atheist was training to be an Olympic diver. The only religious influence in his life came from his outspoken Christian friend. The young diver never really paid much attention to his friend's sermons, but he heard them often.
One night the diver went to the indoor pool at the college he attended. The lights were all off, but as the pool had big skylights and the moon was bright, there was plenty of light to practice by.
The young man climbed up to the highest diving board and as he turned his back to the pool on the edge of the board and extended his arms out, he saw his shadow on the wall. The shadow of his body was in the shape of a cross.
Instead of diving, he knelt down and asked God to come into his life. As the young man stood up, a maintenance man walked in and turned the lights on. The pool had been drained for repairs!
This man's life was saved twice by the cross - he was saved from diving into an empty pool, AND he received eternal life because he accepted Jesus as his Saviour.
Thank God, what Jesus did on the cross saved our lives too! … this is what we are celebrating at Easter time - THE most important Christian feast!
…. THEN THEY LED HIM OUT TO CRUCIFY HIM
They stripped off Jesus' clothes and put a scarlet robe on Him. They made a crown out of thorn branches and placed it on his head, and they put a stick in his right hand. The soldiers knelt down and pretended to worship Him. They made fun of Him and shouted, "Hey, you, king of the Jews!" Then they spit on Him. They took the stick from Him and beat Him on the head with it. When the soldiers had finished making fun of Jesus, they took off the robe. They put his own clothes back on Him and led Him off to be nailed to a cross. (Matt 27:28-32)
MEDICAL FACTS ABOUT CRUCIFIXION
In the time of Jesus it was the rule that before someone was crucified they were first whipped and tortured. The person to be crucified was tied naked to a pole where he was hit with thick sticks and short whips with metal balls or sharp objects on the end.
This caused major pain and suffering and a lot of bleeding for the victim. Often a rib was broken, which would pierce a lung and lead to breathing problems. Lack of food and water during the torturing often lead to dehydration. Together with the loss of blood, this caused a physical shock to the body, which resulted in a drop in blood pressure and increased heart beat. Many victims lost consciousness at this point.
The main cause of the death of the crucified was the fact that he couldn't breathe properly and this caused his heart to stop.
To hang by your arms restricts your breathing because you cannot use the muscles between your ribs.
If you could straighten your legs, it would help a little, but the victims were usually crucified with bent legs.
In an experiment with healthy medical students who were hanged with ropes by their arms, it was found that:
After only 6 minutes their ability to breathe was reduced by 70% and their blood pressure lowered by 50%. After 12 minutes there were serious problems with heart and lung functions and some of them lost consciousness - AND THEY WERE NOT EVEN TORTURED BEFOREHAND!

VIA DOLOROSA
We know that Jesus suffered extensively when He was crucified, He was hit, spat on, tortured and treated harshly. The path that Jesus walked with the cross, from where He was questioned and condemned by Pilate to where He was buried, is called the Via Dolorosa - the Latin for "way of sorrows".
… THE CUP OF SUFFERING
Before Jesus was arrested He said to His disciples in the garden in Gethsemane: "The sorrow in my heart is so great that it almost crushes Me" , and He prayed: "My Father, if it is possible, take this cup of suffering from Me! Yet not what I want, but what You want." (Matt 26:39) - He knew that intense suffering and pain was coming ….. and He was willing to bear it, to pay the price for ME and YOU!
… A MAN OF SORROWS, ACQUAINTED WITH GRIEF
From Isaiah 53:2-9 we can form a picture of the suffering that Jesus went through …..
* He knew pain first hand
* He was despised and rejected
* He was oppressed and afflicted
* He endured suffering - He was beaten and received blows
* He was wounded and crushed
* He was treated harshly
* He had no dignity or beauty
* There was nothing attractive about Him
* No one would even look at Him
AT THE CROSS …
· JESUS died in our place
· JESUS paid the price for our sins
· The punishment that we deserved came down on HIM
· JESUS became our Saviour - MY Saviour
· JESUS endured the suffering that should have been ours
AT THE CROSS …
· I receive forgiveness
…My blood poured out for many for the forgiveness of sins. (Matt 26:28)
Christ carried the burden of our sins. He was nailed to the cross, so that we would stop sinning and start living right. (1Pet 2:24)
· I receive eternal life
He gave his only Son so that everyone who believes in Him will not die but will have eternal life. (John 3:16)
· I become God's child
God had already decided that through Jesus Christ he would make us his children - this was his pleasure and purpose. (Eph 1:5)
· All my sins are wiped out - forgotten
He cancelled the unfavourable record of our sins … by nailing it to the cross. (Col 2:4)
I will not remember your sins anymore. (Isa 43:25)
I'll wipe the slate clean for each of them. I'll forget they ever sinned. (Jer 31:34)
· I am washed and purified by His blood
And the blood of his Son Jesus washes all our sins away. (1John 1:7)
You are stained red with sin, but I will wash you as clean as snow. (Isa 1:18)
· I receive freedom
For by the blood of Christ we are set free, that is, our sins are forgiven. (Eph 1:7)
· My burdens are lifted
He'll wipe every tear from their eyes. Death is gone for good-tears gone, crying gone, pain gone (Rev 21:4)
Come to Me, all of you who are tired from carrying heavy loads, and I will give you rest. (Matt 11:28)
Putting all your troubles on Him, for He takes care of you.
(1Pet 5:7)
· I am renewed - new heart, new mind, new purpose …
God, make a fresh start in me (Ps 51:10)
I will give you a new heart and a new mind. I will take away your stubborn heart of stone and give you an obedient heart. (Eze 36:26)
The one sitting on the throne said, "I am making everything new." (Rev 21:5)
· I receive healing
It is by his wounds that you have been healed. (1Pet 2:24)
ALL THIS IS RECEIVED FREELY, I DON'T DESERVE ANY OF IT - it is a GIFT from God!
THIS EASTER, AT THE CROSS I SHALL ..
Embrace Jesus Christ as my Saviour
Fall down and worship God
Bow in adoration
Surrender my life to Him
Build my life on Jesus
Sing out in praise and adoration
THE LORD'S SUPPER
We often take part in "The Lord's Supper", where the symbols of the bread and the wine, remind us of the suffering that Jesus endured in our place so that we can be free and forgiven:
He broke the bread, gave it to them, and said, "Take this. This is my body." Then He took a cup, spoke a prayer of thanksgiving, and gave the cup to them. They all drank from it. He said to them, "This is my blood, the blood of the promise. It is poured out for many people". (Mark 14:22-24)
A CROSS IN MY POCKET
I carry a cross in my pocket
A simple reminder to me
Of the fact that I am a Christian
No matter where I may be.
This little cross is not magic,
Nor is it a good luck charm.
It isn't meant to protect me
From every physical harm.
It's not for identification
For all the world to see.
It's simply an understanding
Between my Saviour and me.
When I put my hand in my pocket
To bring out a coin or a key
The cross is there to remind me
Of the price He paid for me.
It reminds me, too, to be thankful
For my blessings day by day
And to strive to serve Him better
In all that I do and say.
It's also a daily reminder
Of the peace and comfort I share
With all who know my Master
And give themselves to His care.
So, I carry a cross in my pocket
Reminding no one but me
That Jesus Christ is the Lord of my life
If only I'll let Him be.