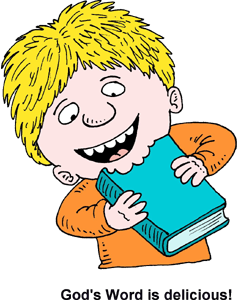 What can help you:
to turn away from sin …. What can make you wise …. Strengthen your faith …. Help you to lead a holy life …. Comfort you .… Make you happy .… Show you the right way …. Let you grow …. Help you to resist any temptation? ….. the Bible!
THE BIBLE IS THE WORD OF GOD
Everything in the Scriptures is God's Word. All of it is useful for teaching and helping people and for correcting them and showing them how to live. (2Tim 3:16 CEV)
If you want to hear the voice of God speaking to you, just read your Bible.
"My word is like the snow and the rain that come down from the sky to water the earth. They make the crops grow and provide seed for planting and food to eat. So also will be the word that I speak--- it will not fail to do what I plan for it; it will do everything I send it to do.
(Isa 55:10-11 GNB)
THE BIBLE IS CALLED ….
The word of God, the revelation of God, Scriptures, His orders or commands, His law, rules or commandments, His teachings, instructions, His counsel, statues or precepts …. If you read these phrases in your Bible they all refer to the written word of God.
B: BASIC
I: INSTRUCTION
B: BEFORE
L: LEAVING
E: EARTH
THE BIBLE IS A UNIQUE BOOK
It is a collection of 66 books, written by 40 different authors over a period of 1600 years with one central theme, expressed in different ways. It includes history, prophecy, poetry, biography, ethics, philosophy and science, and in each of these, it is infallibly true.
THE CENTRAL THEME OF THE BIBLE
The Bible tells us who God is, for example:
· I, the LORD, am a God who is full of compassion and pity, who is not easily angered and who shows great love and faithfulness. I keep my promise for thousands of generations and forgive evil and sin. (Exo 34:6-7 GNB)
· The LORD is my rock and my fortress and my Saviour, my God, my rock in whom I take refuge, my shield, and the strength of my salvation, my stronghold. (Ps 18:2 GW)
The Bible tells us that God's plan for our salvation is through Jesus Christ
· There's nothing like the written Word of God for showing you the way to salvation through faith in Christ Jesus. (2Tim 3:15 MSG)
The Bible gives instructions for our lives as His children
· By your words I can see where I'm going; they throw a beam of light on my dark path. (Ps 119:105 MSG)
· Through the Word we are put together and shaped up for the tasks God has for us. (2Tim 3:17 MSG)
· How can a young person keep his life pure? He can do it by holding on to your word. (Ps 119:9 GW)
· Let my steps be guided by your word. (Ps 119:133 BBE)
THE BIBLE IS ALWAYS TRUE
Because the Bible is the truth, we can live with this attitude: "If God said it, I believe it, that settles it".
· … Your word is the true word. (John 17:17 BBE)
· Flowers and grass fade away, but what our God has said will never change. (Isa 40:8 CEV)
· Long ago I learned from your written instructions that you made them to last forever. (Ps 119:152 GW)
· … all your commands are permanent. (Ps 119:151 GNB)
THE BIBLE IS A LIVING WORD, IT IS MEANT FOR US, IT IS APPLICABLE TODAY
God's word is living and active. It is sharper than any two-edged sword and cuts as deep as the place where soul and spirit meet, the place where joints and marrow meet. God's word judges a person's thoughts and intentions. (Heb 4:12 GW)
THE TRUE STORY OF A 16-YEAR-OLD CHINESE BOY, YUN, WHO DESPERATELY WANTED A BIBLE
(From the book "Heavenly Man")
Yun frequently asked his mother who Jesus truly was. She told him "Jesus is the Son of God who died on the cross for us, taking all our sins and sicknesses. He recorded all His teachings in the Bible". He wanted to know if there were any words of Jesus left that he could read for himself. She replied "No, all His words are gone". This was during the Cultural Revolution when Bibles could not be found in China. From that day on he earnestly wanted to have his own Bible. He asked his mother and fellow Christians what a Bible looked like, but no one knew. The Word of God was scarce in the land.
His mother told him about an old pastor who had a Bible. They went there, but the pastor was too afraid to show them the Bible, because he could go to prison for having a Bible. He told the boy "The Bible is a heavenly book. If you want one, you'll need to pray to the God of heaven. Only He can provide you a heavenly book. God is faithful. He always answers those who seek Him with all of their heart."
When he got home he brought a stone into his room and knelt down on it every evening for prayer. He had just one simple prayer "Lord, please give me a Bible. Amen". Nothing happened A Bible didn't appear.
He went back to the pastor's house and asked him "please show me your Bible. Just a glance and I will be satisfied! I don't need to touch it. You hold it and I will be content just to look at it". The pastor replied: "If you are serious, then you should not only kneel down and pray, you should also fast and weep." The boy did this and for 100 more days he prayed and fasted and waited for a Bible.
Early one morning two men came to their house with a red bag, and in the bag was a Bible that they gave to him.
"I clutched my new Bible to my heart and fell down on my knees. I thanked God again and again. I promised Jesus that from that moment on, I would devour His Word like a hungry child.
I fully trusted that the words in the Bible were God's words to me. Every day from morning to late evening I read the Word of God. When I had to work in the fields, I wrapped my Bible inside my clothing and took every opportunity to sit down and read. At night time I took my Bible with me to bed and laid it on my chest."
It wasn't easy for him to read his Bible, because he only had 3 years of education. He looked up every word in a dictionary, and very slowly read through the whole Bible. Then he started to memorize a chapter a day, and after 28 days he had memorized the whole Gospel of Matthew. .. and so he went on until he had memorized the whole Bible.
… AND YOU? HOW DO YOU REACT TO THE BIBLE?
Do you love your Bible?
· I love and obey your laws with all my heart. (Ps 119:167 CEV)
· I love your commands! They bring me happiness. (Ps 119:47 CEV)
Do you have a desire to learn more from the Word of God?
· My mouth was open wide, waiting with great desire for your teachings. (Ps 119:131 BBE)
Do you take pleasure in the Word of God?
· I will take pleasure in your laws and remember your words. (Ps 119:16 CEV)
· … Your revelation is the tune I dance to. (Ps 119:77 MSG)
Does it make you happy to read and study the Word of God?
· Indeed, your written instructions make me happy. They are my best friends. (Ps 119:24 GW)
· The Lord's instruction is right; it makes our hearts glad. His commands shine brightly, and they give us light. (Ps 19:8 CEV)
Is your Bible more precious than silver and gold to you?
· The teachings that come from your mouth are worth more to me than thousands in gold or silver. (Ps 119:72 GW)
· Obeying your instructions brings as much happiness as being rich. (Ps 119:14 CEV)
Do you live according to the instructions that the Lord gives in the Bible, do you obey His commandments?
· Without any hesitation I hurry to obey your commandments. (Ps 119:60 GW)
· Obey God's message! Don't fool yourselves by just listening to it. (James 1:22 CEV)
FILL YOUR MIND WITH THE WORD OF GOD
· Thinking about your commands will keep me from doing some foolish thing. (Ps 119:6 CEV)
· In conclusion, my friends, fill your minds with those things that are good and that deserve praise: things that are true, noble, right, pure, lovely, and honourable. (Phil 4:8 GNB)
… AND LET THE WORD OF GOD CHANGE YOU
My words are a powerful fire; they are a hammer that shatters rocks. (Jer 23:29 CEV)
Make time everyday to read the Bible, meditate on it, memorize verses, and apply it in your life, yes … "chew on scripture day and night" (Ps 1:2 MSG)
"Scriptures are shallow enough for a babe to come and drink without fear of drowning and deep enough for theologians to swim in without ever touching the bottom"