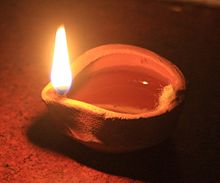 ENOUGH OIL?
In Matthew 25:1-13 Jesus told the story (called a parable) of ten young women (called virgins) who were invited to a wedding feast in their community.

The ten carried lamps to light the way for the bridegroom if he arrived for the wedding after dark. Jesus said that five of the young women were wise and five were foolish.
The wise women showed their wisdom by taking extra oil for their lamps in case the bridegroom was delayed. The foolish women neglected to do so. The bridegroom took his own time, and the young women all fell asleep. Suddenly a cry went up that the bridegroom was coming. The wise women got up and made their lamps ready. The others realized they were out of oil and asked to borrow some. "No," said the wise, "there may not be enough for both you and us. Go to those who sell oil and buy some for yourselves." While they were gone, the bridegroom came, and the five who were ready went in with him to the feast. The door was shut. Later the foolish came and found the door locked. "Open the door for us!" they shouted. But the bridegroom said, "I don't know you."
Then Jesus concluded, "In the light of this story, you keep watch, because you don't know the day or hour of My return."
UNDERSTAND THE WEDDING SEREMONY
Weddings were always held at night in the East. Often the festivities lasted for an entire week and at any time during that week the bridal party was expected to appear. The bridegroom, who was the important one at the wedding (and not the bride, like we are used to!), stayed with his relatives or friends until all the preparations for the wedding had been made. As he sat among his friends, he could decide when to begin the procession to the wedding. The bridegroom would come to get his bride and they would walk together to the site of the wedding, taking the longest possible route through the town. There would be various groups of people waiting at different corners to join the wedding party as they went toward the wedding. Lanterns and torches were lit to guide them through the dark streets.
In this parable there are ten young girls waiting with their lamps to join the wedding party. They were waiting for the bridegroom to make his appearance.
WHAT DOES THIS STORY MEAN TO US TODAY?
1. Jesus is coming again as the bridegroom of His Church, His Bride… when He decides the time is right, He will come. He may delay His coming longer than people expect.
2. To be included in the bridal party we need to be waiting and watching, we need to be ready for Jesus' return.
3. We need to have plenty of oil for our "lamps" or souls so that we are ready for Him.
4. We need to be prepared for His return at all times, watching and waiting and our souls filled with the oil of His anointing Spirit.
TWO GROUPS OF PEOPLE: WISE OR FOOLISH
In this parable Jesus speaks about WISE and FOOLISH women (called virgins in some translations).
Both groups of women:
· Were waiting for the bridegroom
· Had lamps with oil
· Became tired and fall asleep
BUT only the wise women:
· Took extra supply of oil
· Were ready for the coming of the bridegroom
· Went in to the feast with the bridegroom
The foolish women can be compared to people who know about Jesus, who go to church, but they are not serious in their relationship with the Lord. They are "religious" people, but they are still in control of their own lives, and haven't accepted Jesus as personal Saviour. They are not filled by the Holy Spirit and there are no fruit in their lives that show that they are Christians. They will not be ready when Jesus comes again or when they die. They will hear Him say: 'I don't even know who you are!' (Matt 25:12)
The wise women can be compared to people who live for the Lord Jesus, who spend time in prayer and Bible study, who are obedient and follow the guidance of the Holy Spirit in their lives. They will be ready when Jesus come and will go in and join in the feast with Him (that is to be in Heaven with Him)
THE LAMP
· We as Christians must be like a light: "You are light for the world... No one lights a lamp and puts it under a basket. Instead, everyone who lights a lamp puts it on a lamp stand. Then its light shines on everyone in the house. In the same way let your light shine in front of people. Then they will see the good that you do and praise your Father in heaven". (Matt 5:14-16)
· The lamp (or light) is also used throughout Scripture as a symbol of knowledge or understanding. We use it the same way today. We say, "I'd like a little more light on this subject," meaning "I need more knowledge of it."

THE OIL
The oil is a symbol of
· God's grace
· A close walk with God
· Obedience to God and His Word
· Intimacy with Him
· Knowledge of God
· The presence and guidance of the Holy Spirit
Enough oil represents spiritual maturity and stability.
KEEP WATCH
Therefore keep watch, because you do not know the day or the hour (Matt. 25:13).
"To keep watch" doesn't necessarily mean "to stay awake" but merely to "be prepared."
What does our Lord mean by watching? It means to know his Word. That is the first step. The knowledge of the Word must go deeper than the surface. It must be an obedience of the heart, a trusting, a giving over completely of the control of your life, your will, to the Lord Jesus Christ. This results in the indwelling of the Holy Spirit who is the One who will hold you steady in the hour of crisis.
Like the bridegroom in the parable, Christ may delay His coming longer than people expect. We as His followers must be prepared for such a delay. Discipleship may be more demanding than some would suspect.
Like the foolish bridesmaids, those who do not prepare adequately may discover that there is a point beyond which there is no return.
WHY COULDN'T THE FOOLISH WOMEN GET OIL FROM THE WISE?
Every person should make her own decision to surrender her life to Jesus, to accept Him as her Saviour. Each person must confess her own sins, and receive forgiveness - no one can do it FOR you. Someone else's faith cannot save you… you cannot be saved because your parents are Christians, or because your husband is saved - you have to make your own decision to follow Jesus. You have to open the door of your heart for the Lord Jesus to come in! You can do it right now through a prayer:
Heavenly Father,
I come to you in prayer, confessing that I am a sinner and that I cannot save myself. I confess with my mouth and believe with my heart that Jesus is your Son, and that He died on the
cross so that I might be forgiven and have Eternal Life in the Kingdom of Heaven. I believe that Jesus rose from the dead and I ask you right now to come in to my life and be my personal Lord and Saviour. I repent of my sins and will worship you all the
day's of my life. Fill me now with your Holy Spirit and help me to be obedient in every aspect of my life. In Jesus Name, Amen.
HOW CAN I HAVE ENOUGH OIL?
Accept Jesus as Saviour and Lord, and receive the Holy Spirit:
"He saved us. It was not because of any good deeds that we ourselves had done, but because of his own mercy that He saved us, through the Holy Spirit, who gives us new birth and new life by washing us. God poured out the Holy Spirit abundantly on us through Jesus Christ our Saviour. (Tit 3:5-6)
Be under the control of the Holy Spirit
" .. let the Spirit direct your lives" (Gal 5:16), so that you will bear fruit that is pleasing to God. "But the fruit of the Spirit is love, joy, peace, a quiet mind, kind acts, well-doing, faith, gentle behaviour, control over desires. (Gal 5:22-23)
Love one another
And now I give you a new commandment: love one another. As I have loved you, so you must love one another. (John 13:34)
Love in action
My children, our love should not be just words and talk; it must be true love, which shows itself in action. (1John 3:18)
Do good deeds
Don't forget to do good things for others and to share what you have with them. (Heb 13:16)
Feed the hungry, care for the sick and homeless, visit the prisoners (see Matt 25: 35,36)
Study and obey the Word of God
Understanding your Word brings light to the minds of ordinary people. (Ps 119:130)
Joy, Prayer & Thankfulness
Be joyful always, pray at all times, be thankful in all circumstances. (1Thess 5:16-18)
Share the Good News about Jesus
Be preaching the Word at all times, in every place. (2Tim 4:2)
Meet with other Christians for church services
We should not stop gathering together with other believers, as some of you are doing. (Heb 10:25)
ARE YOU WISE OR FOOLISH?
Meditate for a while on this question: which kind of virgin are you? Are you constantly preparing yourself for the arrival of the Bridegroom? Do you confess your sins and seek the forgiveness that only our Saviour can offer? Do you constantly make the preparations for the arrival of the Bridegroom the most important thing in your life?
PRAYER
Give me oil in my lamp, keep me burning, until the break of day!