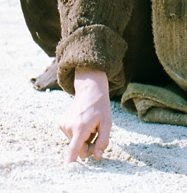 … SIN NO MORE
The teachers of the Law and the Pharisees brought a woman to Jesus who was caught in the act of adultery. According to the laws such a woman should be stoned to death …They asked Jesus' verdict in the case… "what do You say?" But Jesus bent down and wrote with His finger in the ground. And as they continued to ask Him, He stood up and said to them, "Let him who is without sin among you be the first to throw a stone at her." And once more He bent down and wrote on the ground. But when they heard it, they went away one by one, and Jesus was left alone with the woman standing before Him. Jesus stood up and asked her, "Where is everyone? Isn't there anyone left to accuse you?" "No Sir," the woman answered. Then Jesus told her, "I am not going to accuse you either. You may go now, but don't sin anymore." (see John 8:1-11)
From this piece of scripture we can see that:
· Everybody has sin - not one of the people around could throw a stone at the guilty woman.
· Jesus does not condemn, He forgives.
· His forgiveness is unconditional, undeserved, because He is merciful and His love for us is immeasurable.
· Once we are saved by God, He expects from us to turn away from a sinful lifestyle and follow a holy life.
How wonderful it is to know that, no matter what our failures may be, Jesus does not condemn us. He lovingly tells the guilty woman (AND EVERY ONE OF US!) to "go, and sin no more".
WHAT IS SIN?
Sin is everything we do, think or say that is against God's will and His Word.
· Whoever sins is guilty of breaking God's law (1John 3:4)
· Those who live sinful lives are disobeying God. Sin is disobedience (1John 3:4)
· Whoever knows what is right but doesn't do it is sinning. (James 4:17)
Throughout the Bible certain things are listed as sins, for instance: immorality, perversion, promiscuity, idolatry, witchcraft, drug use, hatred, rivalry, jealousy, angry outbursts, selfish ambition, conflict, envy, drunkenness, wild partying (Gal 5:19-21), evil thoughts, murder, stealing, lying, cursing (Matt 15:19), etc. The Bible says that if someone obeys all of God's laws except one, that person is guilty of breaking all the laws (James 2:10) …. So you can see that all of us are guilty in the eyes of God.
EVERYBODY HAS SINNED
There is no one that can say that she doesn't have any sin:
· Everyone has sinned and is far away from God's saving presence. (Rom 3:23)
· If we say, "We aren't sinful" we are deceiving ourselves, and the truth is not in us. (1John 1:8)
OUR SINS SEPARATE US FROM GOD
We must know that our sins come between God and us, it builds a barrier, so that we feel far away from God.
· But your wrongs have separated you from your God, and your sins have made Him hide His face so that He doesn't hear you. (Isa 59:2)
OUR SIN MAKES HIM FURIOUS
When we sin we must know that God hates our sin, it makes Him angry, it makes Him sad.
· The LORD saw how evil humans had become on the earth … and He was heartbroken. (Gen 6:5-6)
· .. whoever disobeys the Son will not have life, but will remain under God's punishment. (John 3:36)
· They did not obey His written instructions… He became furious. (Ps 78:56-59)
… BUT GOD SENT HIS SON, JESUS
· But God showed how much He loved us by having Christ die for us (Rom 5:8)
· .. He loved us and sent His Son to be the payment for our sins. (1John 4:10)
… AND JESUS PAID FOR OUR SINS
· Because of our sins He was given over to die, and He was raised to life in order to put us right with God (Rom 4:25)
· Christ carried the burden of our sins. He was nailed to the cross, so that we would stop sinning and start living right. (1Pet 2:24)
· Christ obeyed God our Father and gave Himself as a sacrifice for our sins to rescue us from this evil world. (Gal 1:4)
· And Christ Himself is the means by which our sins are forgiven, and not our sins only, but also the sins of everyone. (1John 2:2)
… WHILE WE WERE SINNERS
But God has shown us how much He loves us - it was while we were still sinners that Christ died for us! (Rom 5:8)
Yes, He paid the price for our sins before we could ask Him for forgiveness, before we could repent, before we could try to clean ourselves up …. Come to Him just as you are, come out, into the arms of Jesus.
… AND GOD FORGIVES US
· …He can always be trusted to forgive us and take our sins away (1John 1:9)
· But sin didn't, and doesn't, have a chance in competition with the aggressive forgiveness we call grace. When it's sin versus grace, grace wins hands down (Rom 5:20)
… AND GOD REMOVES OUR SINS
· The LORD is merciful and loving … He does not keep on rebuking; He is not angry forever. He does not punish us as we deserve… As far as the east is from the west, so far does He remove our sins from us. (Ps 103:8-12)
… AND GOD WIPES OUR SINS AWAY
· I've wiped the slate of all your wrongdoings. There's nothing left of your sins. Come back to Me, come back. I've redeemed you (Isa 44:22)
… AND GOD FORGETS OUR SIN
I will forgive their sins and I will no longer remember their wrongs. I, the LORD, have spoken (Jer 31:34)
ARE YOU TIRED OF SIN IN YOUR LIFE?
Are you tired of sinning? Are you tired of the effects of sin and wrong in your life? Come to Jesus. Admit that you are a sinner, admit that you cannot save yourself, admit that you are a mess and that you made a mess of your life. Believe that He loves you, believe that He died for YOU, believe that He can set you free, believe that with Jesus you can have a fresh start …. Today!
Even a wicked sinner can be saved today. There is salvation for all who will put their faith in Christ. It doesn't matter what happened last night, last month, last year, or whenever in your life. What matters is that you will come to Jesus and receive His forgiveness right now. Acknowledge to Him that you need His saving grace and forgiveness.
· Believe in the Lord Jesus, and you will be saved (Acts 16:31)
· He who believes in the Son has eternal life (John 3:36)
· … everyone who believes in Him will not die but will have eternal life. God sent his Son into the world, not to condemn the world, but to save the world. Those who believe in Him won't be condemned. (John 3:16-18)
GO, AND SIN NO MORE
Once we know that we are forgiven, that we are washed in the blood of Christ, that we are put right with God, we also need to know that we are now dedicated to God, and He asks from us to strife for holiness, to live a life that is pleasing to Him... He says to us today: go, but do not sin again.
· But you have been washed and made holy (1Cor 6:11)
· Now you have been freed from sin and have become God's slaves. This results in a holy life (Rom 6:22)
· You were created to be like God, and so you must please Him and be truly holy. (Eph 4:24)
· Everyone who has this hope in Christ keeps himself pure, just as Christ is pure. (1John 3:3)
· Those who live in Christ don't go on sinning. Those who go on sinning haven't seen or known Christ. (1John 3:6)
· Don't let sin keep ruling your lives. (Rom 6:14)
Make this decision today to keep on turning away from sin in your life, to say "no" to temptations, to be totally dedicated to God. You became a Christian by God's grace, through faith; by God's grace you can now live a Christian life. You have the Holy Spirit in you to strengthen you and deliver you from temptation, to guide you and control you …. Listen to His voice, listen to your conscience, listen to and obey the Word of God.
HOW DO I FIGHT AGAINST SIN?
· … let God change the way you think. Then you will know how to do everything that is good and pleasing to Him. (Rom 12:2)
· Do not give in to the temptations of the world, the flesh and the devil (1 Pet 5:9)
· Replace bad, old habits with good ones.
· Avoid wrong places and actions.
· Remind yourself of what God has said about you, namely that you are a new creation, and of the promises of victory that He gives.
· Pray regularly that the Spirit will control your life and make it new - surrender to Him.
· Feed yourself with good reading material, conversation and recreation.
GO, AND SIN NO MORE
(a song by Rebecca St James)
I've sinned, come on my knees
For I'm not worthy of your love
How could You die for me
Such grace can only come from God
Oh Lord, You search and You know me
You see me inside out
God, You alone can forgive me
Erase my sin and my doubt
Father You pick me up
I feel like a child in Your arms
I don't deserve this love
But, I hear Your voice Lord Jesus

Go and sin no more
He said, "I will not condemn you,
I'll forgive and I'll forget it all
Go and sin no more
My child let me remind you
It is I who'll lead and guide you as you go"