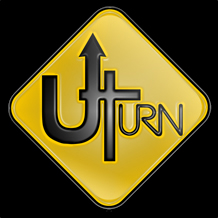 A SECOND CHANCE: MAKE A U-TURN
When you are travelling or walking somewhere, and you find out that you are on the wrong road, or you took the wrong turn, or stop at the wrong address …. What would you do?
It is obvious that no-one will continue on the wrong road, or stay at the wrong address! You will immediately make a U-turn and find the correct way. You will turn around and ask for directions, or consult a roadmap to see which way you should go.
If you know that the road you are on lead to a dead-end, or a dangerous place, you would turn around immediately, wouldn't you?
Spiritually this is also true, and the Lord wants us to examine the way our lives are going and make a U-turn when we find that we are heading towards the wrong destination:
When someone falls down, doesn't he get back up? If someone misses the road, doesn't he turn back? Why then, my people, do you turn away from Me without ever turning back? (Jer 8:4-5 GNB)
Throughout the Bible there are very often a call on us to turn back to God.
Fortunately ..
· He allows U-turns
· He is a God who specializes in second chances
· He never gives up with us!
FROM THE BIBLE
Read the following Bible passages and see how we are urged to turn away from wrong ways, and turn back to the Lord:
· … if you want to turn, then turn back to Me. (Jer 4:1)
· Turn back to Me, and I will turn to you. (Mal 3:7)
· If you and your descendants will turn back to the LORD and with all your heart obey his commands that I am giving you today, then the LORD your God will have mercy on you. (Deut 30:2-3)
· Return to the LORD, and say these things to Him: "Forgive all our sins, and kindly receive us. (Hos 14:2)
· … come back! Return to your GOD! (Hos 14:1)
· Come back to God Almighty and He'll rebuild your life. (Job 22:23)
· Change your life … Come back to GOD, your God. (Joel 2:13)
· … now He commands all of them everywhere to turn away from their evil ways. (Acts 17:30)
· Return to Me, and I will return to you. (Zec 1:3)
· Come back and quietly trust in Me. (Isa 30:15)
Will you take this call to return to the Lord seriously?
He is waiting for you ….
Turn to the LORD! He can still be found. Call out to God! He is near. (Isa 55:6)
Come near to God, and He will come near to you. (James 4:8)
ADMIT THAT YOU NEED A U-TURN IN YOUR LIFE
The first step will be to ADMIT that you took the wrong way, that you are heading for the wrong destination. Admit that you made mistakes, admit that you made the wrong choices, admit that you need God.
He was so sorry for what he had done that he pounded his chest and prayed, "God, have pity on me! I am such a sinner." (Luk 18:13)
TURN AWAY FROM …
· SIN
Turn away from your sins, because the Kingdom of heaven is near! (Mat 4:17)
… they should turn from their sins to God and believe in our Lord Jesus. (Act 20:21)
… He does not want anyone to be destroyed, but wants all to turn away from their sins. (2Pet 3:9)
· EVIL
Turn away from all the evil you are doing, and don't let your sin destroy you. (Eze 18:30 GNB)
· IDOLS
Why then, my people, do you turn away from Me without ever turning back? You cling to your idols and refuse to return to Me.
(Jer 8:5)
Repent! Turn your backs on your no-god idols. Turn your backs on all your outrageous obscenities.
(Eze 14:6)
TURN TO JESUS AND RECEIVE ….
· FORGIVENESS
Let them turn to the LORD, our God; He is merciful and quick to forgive. (Isa 55:7 GNB)
So then, let your hearts be changed and be turned to God, so that your sins may be completely taken away, and times of blessing may come from the Lord (Act 3:19)
· ACCEPTANCE
He knows all our thoughts and desires. If you go to Him, He will accept you (1Chron 28:9)
· MERCY
Come back to the LORD your God. He is kind and full of mercy; He is patient and keeps his promise; He is always ready to forgive and not punish. (Joel 2:13)
· HEALING
Let's return to the LORD! … He will be sure to heal us; … He will bandage our wounds, won't He?
(Hos 6:1)
· A NEW HEART AND A NEW MIND
Give up all the evil you have been doing, and get yourselves new minds and hearts. (Eze 18:31)
· ETERNAL LIFE
… turn to Him so that they can change the way they think and act and have eternal life. (Acts 11:18)
· ANSWERS TO PRAYERS
… if they pray to Me and repent and turn away from the evil they have been doing, then I will hear them in heaven (2Chron 7:14)
· STRENGTH
Come back … Then you will be strong and secure. (Isa 30:15)
STAY ON THE RIGHT ROAD BY …
· STUDYING THE BIBLE
Your word is a lamp to guide me and a light for my path. (Ps 119:105)
How can a young person live a clean life? By carefully reading the map of your Word. (Ps 119:9)
· TRUSTING GOD TO SHOW YOU THE RIGHT PATH
You are my God. Show me what You want me to do, and let your gentle Spirit lead me in the right path. (Ps 143:10)
Teach me, LORD, what you want me to do, and lead me along a safe path (Ps 27:11)
· LISTENING TO GOD'S VOICE
If you wander off the road to the right or the left, you will hear his voice behind you saying, "Here is the road. Follow it." (Isa 30:21)
He is the one whom the LORD will teach which path to choose.
(Ps 25:12)
· BEING OBEDIENT
I am the LORD, and I lead you along the right path. If you obey Me, we will walk together. (Hos 14:9)
NOW: DO THE THINGS THAT WILL PROVE THAT YOU HAVE MADE A U-TURN IN YOUR LIFE
Do those things that will show that you have turned from your sins. (Luke 3:8)
Stop sinning and turn to God! Then prove what you have done by the way you live. (Acts 26:20)
· DO…
..be good and honest and truthful (Eph 5:9)
.. be filled with the Spirit. (Eph 5:18)
… be sympathetic, kind, humble, gentle, and patient. (Col 3:12)
… be even-tempered, content with second place, quick to forgive an offense. (Col 3:13)
… be loving. This ties everything together perfectly. (Col 3:14)
… let the peace of Christ rule in your hearts (Col 3:15)
… let the word of Christ be in you (Col 3:16)
… sing to God in your hearts. (Col 3:16)
… be kind and tender-hearted to one another (Eph 4:32)
· DO NOT …
Don't be controlled by your body. Kill every desire for the wrong kind of sex. (Col 3:5)
Don't be immoral or indecent or have evil thoughts. (Col 3:5)
Don't be greedy, which is the same as worshiping idols. (Col 3:5)
Don't lie to each other. (Col 3:9)
Do not get drunk with wine, which will only ruin you (Eph 5:18)
· GET RID OF
Also get rid of your anger, hot tempers, hatred, cursing, obscene language, and all similar sins. (Col 3:8)
Get rid of all bitterness, passion, and anger. No more shouting or insults, no more hateful feelings of any sort. (Eph 4:31)
So get rid of every filthy habit and all wicked conduct. (James 1:21)
So get rid of every kind of evil, every kind of deception, hypocrisy, jealousy, and every kind of slander. (1Pet 2:1)
Get rid of the foreign gods that are among you. Turn yourselves entirely over to the LORD (Jos 24:23 GW)
Make that U-turn today! Like the father in the parable of the lost son, in Luke 15, God is waiting for you with open arms, with compassion, with pity, with forgiveness and with love.