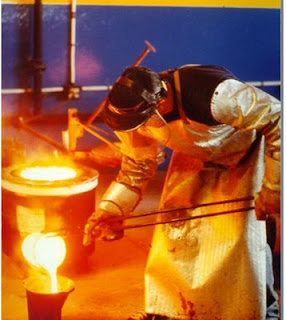 IT IS A FACT that all of us will face problems, trials, suffering, hardships and sorrows in our lifes
"Life is a series of problems. Every time you solve one, another is waiting to take it's place. Not all of them are big, but all are significant in God's growth process for you." (Purpose Driven Life, Rick Warren)
My dear friends, do not be surprised at the painful test you are suffering, as though something unusual were happening to you. (1Pet 4:12 GNB)
I will refine my people like metal and put them to the test (Jer 9:7)
Even gold, which can be destroyed, is tested by fire; and so your faith, which is much more precious than gold, must also be tested, so that it may endure. (1Pet 1:7 GNB)
I'll melt them down and see what they're made of. (Jer 9:7 MSG)
You have put us to the test, God; as silver is purified by fire, so you have tested us. (Ps 66:10 GNB)

When a silversmith refines silver, he holds it in the middle of the fire where the flames are the hottest so that all impurities can be burned away. This is what God does with us when He is refining us through problems and suffering. The silversmith has to keep his eye on the silver the entire time it is in the fire. If the silver is left a moment too long in the flames it can be destroyed. The silversmith knows that the silver is fully refined when he can see his own image reflecting in the silver.
If today you are feeling the heat of the fire, remember that you are in God's hand and He has His eye on you and will keep watching you until He sees His image in you.
God uses hardships in your life…..

To get your attention
Someone said that pain is God's megaphone … Hard times and troubles are God's way of getting our attention! (Job 36:15 CEV)

To draw you closer to Himself
The LORD is near to the brokenhearted and saves the crushed in spirit. (Ps 34:18 ESV)

To mould you and shape you
"There is no growth without change, no change without fear or loss, and no loss without pain"
"No, that trauma you faced was not easy
And God wept that it hurt you so
But it was allowed to shape your heart
So that into His likeness you'd grow" (Russell Kelfer)
To bring you to spiritual maturity
At the time, discipline isn't much fun. It always feels like it's going against the grain. Later, of course, it pays off handsomely, for it's the well-trained who find themselves mature in their relationship with God. (Heb 12:11 MSG)

To test your faith and obedience
…. pushing you to your limits, testing you so that He would know what you were made of, whether you would keep His commandments or not. (Deut 8:2 MSG)
How do you respond to problems and suffering?
When you are facing trouble don't ask "Why me, Lord?". Instead ask "What do you want me to learn?"
Don't complain about your circumstances
Nothing comes to you that God doesn't know about and that is not under His ultimate control.
Friends, when life gets really difficult, don't jump to the conclusion that God isn't on the job. (1Pet 4:12 MSG)
When God sends us something good, we welcome it. How can we complain when he sends us trouble? (Job 2:10 GNB)

Remain faithful to God, don't give up
God will bless you, if you don't give up when your faith is being tested. He will reward you with a glorious life. (James 1:12 CEV)

Turn to God alone
In hard times choose to focus on God and depend on Him instead of yourself. "You'll never know that God is all you need, until God is all you've got" (R. Warren).
So keep your mind on Jesus….. Then you won't get discouraged and give up. (Heb 12:3 CEV)

Be patient and remember that your problems are only temporary
And this small and temporary trouble we suffer will bring us a tremendous and eternal glory, much greater than the trouble. (2Cor 4:17 GNB)

Remember that God's plan for you is good
He knows what is best for you.
I know what I'm doing. I have it all planned out - plans to take care of you, not abandon you, plans to give you the future you hope for. (Jer 29:11 MSG)

Stay focused on God's plan, not on your pain or problem.
"If you look at the world you'll be disturbed. If you look within, you'll be depressed. But if you look at Christ, you'll be at rest" (Corrie ten Boom)

Rejoice and give thanks
Thank Him because you know that He will use your problems to fulfill His purposes. No matter what is happening, you can still rejoice in God's love, care, power and faithfulness.
Be cheerful no matter what; thank God no matter what happens. (1Thess 5:16, 18 MSG)

Sit alone, quiet your thoughts and pray
When life is heavy and hard to take, go off by yourself. Enter the silence. Bow in prayer. Don't ask questions. Wait for hope to appear. (Lam 3:28-29 MSG)
You can be strong by being quiet and by trusting Me. (Isa 30:15 GW)
From the bottom of the pit, I prayed to you, LORD. (Lam 3:55 CEV)
God cares for you, so turn all your worries over to Him. (1Pet 5:7 CEV)
God won't leave you alone in your suffering - you can rely on His guidance, His help and comfort
"We have been in many trials, but we never yet been cast where we could not find in our God all that we needed" (Charles Spurgeon)
The Lord will make you go through hard times, but He himself will be there to teach you, and you will not have to search for Him any more.
If you wander off the road to the right or the left, you will hear His voice behind you saying, "Here is the road. Follow it." (Isa 30:20-21 GNB)
When you pass through deep waters, I will be with you; your troubles will not overwhelm you. When you pass through fire, you will not be burned; the hard trials that come will not hurt you. (Isa 43:2 GNB) - this is not a promise that there won't be hardships for you; it is a promise from God that He will be with you in any difficult circumstance.
You made me suffer a lot, but You will bring me back from this deep pit and give me new life. (Ps 71:20 CEV)
Then we cried out for help to the LORD. He heard us and saw our suffering, hardship, and misery. (Deut 26:7 GNB)
When I felt my feet slipping, You came with Your love and kept me steady. And when I was burdened with worries, You comforted me and made me feel secure. (Ps 94:18-19 CEV)
But those who trust in the LORD for help will find their strength renewed. They will rise on wings like eagles; they will run and not get weary; they will walk and not grow weak. (Isa 40:31 GNB)
The Lord's unfailing love and mercy still continue, no matter how difficult or painful your situation is
The thought of my pain, my homelessness, is bitter poison. I think of it constantly, and my spirit is depressed. Yet hope returns when I remember this one thing: The LORD's unfailing love and mercy still continue, fresh as the morning, as sure as the sunrise. The LORD is all I have, and so in Him I put my hope. (Lam 3:19-24 GNB)
The Lord is merciful and will not reject us forever. He may bring us sorrow, but His love for us is sure and strong. He takes no pleasure in causing us grief or pain. (Lam 3:31-33 GNB)
You know how troubled I am; you have kept a record of my tears…. I know this: God is on my side. (Ps 56:8-9 GNB)
Can anything separate us from the love of Christ? Can trouble, suffering, and hard times, or hunger and nakedness, or danger and death? (Rom 8:35 CEV)
In His time, He will provide a way out
Every test that you have experienced is the kind that normally comes to people. But God keeps His promise, and He will not allow you to be tested beyond your power to remain firm; at the time you are put to the test, He will give you the strength to endure it, and so provide you with a way out. (1Cor 10:13 GNB)
Your days of grief will come to an end. (Isa 60:20 GNB)
What can you expect as the outcome of problems, trials and testing in your life?
Everything that happens to a child of God is with His permission, and the outcome will be good.
And we know that for those who love God all things work together for good. (Rom 8:28 ESV)
You will learn to endure, to have the power of going on in hope
My friends, be glad, even if you have a lot of trouble. You know that you learn to endure by having your faith tested. (James 1:2-3 CEV)
Endure until your testing is over. Then you will be mature and complete, and you won't need anything. (James 1:4 GW)

You will learn something about God's will and His commandments
My troubles turned out all for the best - they forced me to learn from your textbook. (Ps 119:71 MSG)

Your character will be formed and shaped, and you will get confidence and hope
We also brag when we are suffering. We know that suffering creates endurance, endurance creates character, and character creates confidence. (Rom 5:3-4 GW)
If you face your problems in the power and grace of God, you will come through knowing that you "have been with Jesus" in a way that no other experience can give you. You will be wiser and you will see most things in a different light. You will know the difference between things that are truly valuable and those that are worthless.