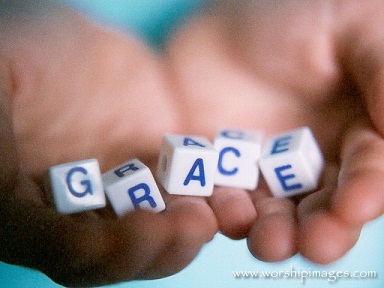 GRACE
* Can anything separate us from the love of God?
* Can you drift too far?
* Wait too long?
* Out-sin the love of God?
The answer is found in one of life's sweetest words - GRACE
GRACE IS ….
* Grace is the undeserved kindness and goodness that God has for every one of us; His generous favour and unmerited love that He gives freely to all.
* God's grace is a free gift that is available to anybody who turns to Jesus, it is freely given to us, even before we recognize that we need it.
* Grace is God's work, we just have to accept it through faith.
* … it is a generous life-giving gift (Rom 5:16, MSG)
But by God's grace I am what I am (1Cor 15:10)
GOD'S GRACE IS DESCRIBED IN THE BIBLE AS …
* All-abundant (Rom 5:17)
* Great (Eph 1:7)
* Immeasurable rich (Eph 2:7, ESV)
* All-sufficient (2Cor 12:9)
* Glorious (Eph 1:6)
* Surpassing (2Cor 9:14, ESV)
* Extraordinary (2Cor 9:14, GNB)
* Exceeding (2Cor 9:14, KJV)
* Unmeasured (1Pet 4:10, ESV)
WE DESCRIBE GOD'S GRACE IN OUR SONGS AS…
* Amazing …..
Amazing grace, how sweet the sound
That saved a wretch like me
I once was lost, but now I'm found
Was blind, but now I see
* Outrageous ….
Oh outrageous grace
Oh outrageous grace
Love unfurled by heaven's hand
Oh outrageous grace Oh outrageous grace
Through my Jesus I can stand
GOD'S GRACE IS NEW EVERYDAY: WE CAN START FROM SCRATCH EVERY MORNING …. HIS GRACE ERASES YESTERDAY!
* Even though on the outside it often looks like things are falling apart on us, on the inside, where God is making new life, not a day goes by without his unfolding grace. (2Cor 4:16, MSG)
* God's loyal love couldn't have run out, his merciful love couldn't have dried up. They're created new every morning. How great is your faithfulness! (Lam 3:22,23, MSG)
.. THE FREE GIFT OF GOD IS ETERNAL LIFE
* God's gift is real life, eternal life, delivered by Jesus, our Master. (Rom 6:23 MSG)
* Grace invites us into life--a life that goes on and on and on (Rom 5:21 MSG)
* God's gift has restored our relationship with Him and given us back our lives. And there's more life to come--an eternity of life! (Tit 3:7 MSG)
THROUGH GOD'S GRACE WE ARE TRANSFORMED FROM SINNER TO SAVED
* But by the free gift of God's grace all are put right with Him through Christ Jesus, who sets them free. (Rom 3:24 GNB)
* It is by God's grace that you have been saved. (Eph 2:5 GNB)
* Let us praise God for his glorious grace, for the free gift He gave us in his dear Son! For by the blood of Christ we are set free, that is, our sins are forgiven. How great is the grace of God. (Eph 1:6,7 GNB)
* After so many sins, comes the undeserved gift of "Not guilty!" (Rom 5:16 GNB) … yes, on the cross Jesus died and paid for every sin that we have done in the past and will be doing in the future …. In front of God we are now innocent and free!
* …. but where there was much sin, there was much more grace. (Rom 5:20 BBE)
* God's grace enables me to always return to Him, to be reconciled with Him and to be put into the right relationship with Him.
* God's love and grace are always greater than ALL our wrong choices, ALL our mistakes and ALL our sins … we receive a full measure of His grace, day by day!
G = God's
R = Riches
A = At
C = Christ
E = Expense
GOD'S GRACE GIVES US ….
* Unfailing courage and a firm hope (2Thess 2:16)
* Comfort and strength (2Thess 2:17, BBE)
* Faith and love (1Tim 1:14)
* His blessings: Out of the fullness of his grace He has blessed us all, giving us one blessing after another. (Joh 1:16 GNB) … gift after gift, after gift, after gift.
THE RESULT OF GOD'S GRACE IN OUR EVERYDAY LIVING
For God has revealed his grace for the salvation of all people. That grace instructs us to give up ungodly living and worldly passions, and to live self-controlled, upright, and godly lives in this world. (Tit 2:11, 12 GNB)
Now that we have received God's grace, we have a responsibility to be gracious to others. Max Lucado says in his book "In the Grip of Grace" the more we open our hearts to be soaked and saturated by the grace of God, the more we will be willing and ready to show grace to others, to forgive and to love people around us. To show grace means to extend favour to someone who does not deserve it.
REMEMBER: WE CANNOT EARN OR DESERVE GOD'S GRACE
* But God treats us much better than we deserve, and because of Christ Jesus, He freely accepts us and sets us free from our sins. (Rom 3:24 CEV)
* You were saved by faith in God, who treats us much better than we deserve. This is God's gift to you, and not anything you have done on your own. It isn't something you have earned, so there is nothing you can brag about. (Eph 2:8,9 CEV)
* We did nothing to deserve this, but God planned it because He is so kind. Even before time began God planned for Christ Jesus to show kindness to us. (2Tim 1:9 CEV)
SHARE THE MESSAGE ABOUT HIS GRACE
* Once we have received and experienced God's grace, we must go out in the world and share the good news about the grace of God …. Tell people that God loves them, that eternal life is a free gift, that Jesus paid for every sin on the cross - that they can be saved and set free by His grace!
* "I only want to complete my mission and finish the work that the Lord Jesus gave me to do, which is to declare the Good News about the grace of God". (Acts 20:24 GNB)
DO NOT REJECT THE GRACE OF GOD … KEEP ON LIVING IN IT
* Guard against turning back from the grace of God. Let no one become like a bitter plant that grows up and causes many troubles with its poison. (Heb 12:15 GNB)
* But continue to grow in the grace and knowledge of our Lord and Saviour Jesus Christ. (2Pet 3:18 GNB)
* The apostles spoke to them and encouraged them to keep on living in the grace of God. (Acts 13:43 GNB)
PRAISE AND THANK GOD FOR HIS GRACE
* Thanks be to God for his inexpressible gift! (2Cor 9:15 ESV)
* Let us praise God for his glorious grace. (Eph 1:6 GNB)
IN THE GRIP OF GRACE
Once we have accepted God's grace, Jesus says: "I give them eternal life, so that they will never be lost. No one can snatch them out of my hand." (Joh 10:28 CEV)
… you are forever in the grip of His grace!
AND NOW: ACCEPT THE GIFT
* Our Master Jesus has his arms wide open for you. (1Cor 16:23 MSG) …. Accept the free gift that He offers you today - it is only yours if you take the gift and "use" it!
* So let's walk right up to Him and get what He is so ready to give. Take the mercy, accept the help. (Heb 4:16 MSG)
MY GRACE IS ALL YOU NEED (2Cor 12:9)
There's a lot of pain
But a lot more healing
There's a lot of trouble
But a lot more peace
There's a lot of hate
But a lot more loving
There's a lot of sin
But a lot more grace
MY PRAYER FOR YOU
"And now I commend you to the care of God and to the message of his grace, which is able to build you up and give you the blessings God has for all his people". (Acts 20:32 GNB)
May God's grace be with all those who love our Lord Jesus Christ with undying love. (Eph 6:24 GNB)