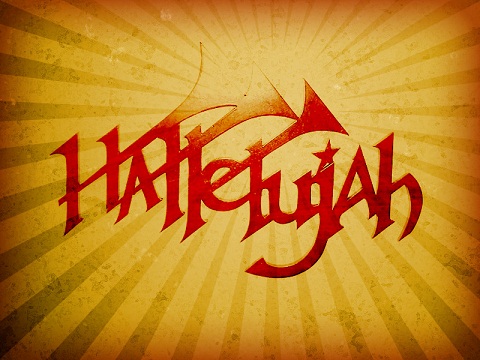 PRAISE
Praise is defined as the expression of respect and gratitude as an act of worship.
Let us analyse this definition of the word "praise" in order to understand the meaning of the word.
It is an expression: to express means to make known a thought or feeling. In praising God therefore, we are making something known to Him.
Expression of respect: Respect is a feeling of admiration for someone because of their qualities and achievements. We respect God because of His qualities, might, and above all His achievements.
Here are a few of them: He made the earth from nothing, causes the sun to shine on all men, He sent Jesus to die for our sins and free us from satan. He heals the sick, raises the dead. The hopeless gets hope from Him, He is gracious, slow to anger and full of mercy.
Surely these are qualities that will earn anyone admiration. Respect and admiration for God would flow out of the person who can count his blessings from God.
Expression of gratitude: Gratitude is to show your appreciation; another word for it is thankfulness.
To show gratitude to God is to express thanks to Him, telling Him you are grateful for the things He's done for you.
Therefore, to praise God is to MAKE KNOWN TO HIM OUR ADMIRATION FOR HIS PERSONAL QUALITIES (RESPECT) AND THANKFULNESS FOR HIS ACTS (GRATITUDE)
HEBREW WORDS
When we look at some Hebrew words that are used for the word "praise", it can help us to understand what it means to praise God:
Hallal: to shine, to rave, to celebrate, to commend, to make a show, to boast.
Yadah: to raise the hands, to honour or worship with extended hands
Barak: to kneel, by implication to bless God as an act of adoration.
Zamar: to touch the strings or parts
of a musical instrument, to play upon it, to make music, accompanied by the voice
Tehillah: to praise God with singing
SYNONOMS FOR PRAISE
Glorify, honour, worship, thank, celebrate, magnify, exalt, proclaim His greatness
WAYS TO PRAISE GOD
Since our words convey our thoughts, we offer praises to God mostly with words, spoken, sung or written. Words like 'thank You, You are holy, I adore and appreciate You etc' convey our praises.
We can praise God with anything or with any gesture that shows our adoration to Him, provided that it comes from a sincere, loving, pure heart that is focused on Him.
We can sing to Him, clap for Him, dance, shout, play on musical instruments, kneel, recite poems, tell people about His acts in our lives (testimony), give to the needy and charities. The list is endless of the things we can do to show our respect and honour to God.
Here are some of the ways that we read about in Psalms:
· Sing and make music (Ps 27:6)
· Shout aloud (Ps 149:6)
· Bow down and kneel (Ps 95:6)
· Clap your hands for joy (Ps 47:1)
· Praise God with loud songs (Ps 47:1)
· Dance (Ps 149:3)
Use every part of your body:
· Lungs: … my lungs expand with his praise. (Ps 34:1 MSG)
· Mouth: My mouth is filled with your praise (Ps 71:8 GW)
· Lips: My lips will praise you (Ps 63:3 GW)
· Tongue: High praise was on my tongue. (Ps 66:17 GW)
· Hands: Lift your hands … and praise the LORD. (Ps 134:2 GW); .. make a glad noise with your hands, all you peoples (Ps 47:1 BBE)

Use any instrument:
.. strike up the band and make great music! (Ps 149:3 MSG)
· Praise with a blast on the trumpet,
· Praise by strumming soft strings; Praise Him with castanets and dance;
· Praise Him with banjo and flute; Praise Him with cymbals and a big bass drum
· Praise Him with fiddles and mandolin.
Let every living, breathing creature praise GOD! Hallelujah! (Ps 150:3-6 MSG)
PRAISE is a vital component of our Christian walk. It is as essential as prayer, as important as studying His word. It is in praise to God that we open our hearts wide to the Lord and express our love, gratitude and awe for Him.
Come, let's shout praises to GOD, raise the roof for the Rock who saved us! (Ps 95:1 MSG)
PRAISE TURNS OUR FOCUS
May be you are saying: "But I don't really feel like praising..."
That is precisely the time when we should be praising the loudest! When we're down in the dumps, head hung low, feeling blue - that is the ideal time to praise.
Why? Why? Why?
Praise turns our focus. Often when we're burdened with troubles or sorrow, our focus gets stuck inward. We gaze at our problems and focus on ourselves. When we suffer a setback, or a tragedy, or a hardship, the eyes of our souls can become glued on that problem.
Praise breaks our eyes free from ourselves, and turns them toward God!
Why am I so sad? Why am I so troubled? I will put my hope in God, and once again I will praise Him, my Saviour and my God. (Ps 42:5 GNB)
PRAISE IS A REMINDER
Praise absolutely blots out any negative feelings, sorrow, worries, etc. Praise reminds us that God has taken care of our every need, and blessed our lives richly.
Praise reminds us of all God's benefits. In Psalm 103, David praised God for all those benefits:
· forgiveness of all sins
· healing of all diseases
· redemption of our lives instead of destruction
· filling with God's love and compassion
· a satisfying life
· He is slow to anger
· He loves us immeasurably
The 103rd psalm is an awesome passage of praise to our Almighty Lord.

PRAISE HIM BECAUSE …
· His love is strong, and His faithfulness is eternal (Ps 117:2)
· He carries your burdens (Ps 68:19)
· He listens when you pray (Ps 66:20)
· He is wise and powerful (Dan 2:20)
· He gives you help, He makes you glad (Ps 28:7)
· He guides you (Ps 16:7)
· He saves you (Ps 18:3)
· He lives and He defends you (Ps 18:46)
PRAISE HIM FOR ….
· His supreme greatness (150:2)
· His faithfulness (Ps 71:22)
· His great strength (Ps 21:13)
· His glory and might (1 Chron 16:28)
· His goodness (Ps 89:16)
· His kindness (Ps 103:2)
Praise Him with all your heart and strength. Praise Him for what He has done, what he is doing, and what He will do.
Praise Him just because he is God.
Praise Him in your own way. You can sing, you can dance, you can shout,... do whatever you want to please God! Just praise Him in your own special way. And forget what others may think of you.

My song will keep your fame alive forever, and everyone will praise You for all time to come. (Ps 45:17 GNB)

Praise Him …
Honour Him …
Worship Him …
WHEN WE PRAISE GOD, OUR FOCUS SHIFTS FROM …
BLESS ME to BLESS HIM
BLESSING to BLESSER
PRESENTS to PRESENCE
GIFTS to GIVER
INTO HIS PRESENCE
Psalm 100:4-5 tells us to enter his gates with thanksgiving, and his courts with praise. It is in true, heartfelt praise to the Lord that we enter into His presence. The Lord wants our hearts turned toward Him. When we have our eyes focused on God, we see all the Lord has done and is doing. We see the victory we've received. We see the God who is on our side, who loves us, who fills us.
May his name be praised, now and forever. (Ps 113:2 GNB)
EVERYBODY & EVERYTHING
· Praise the LORD, all people on earth (Ps 96:7 GNB)
· Sing to God, kingdoms of the world, sing praise to the Lord.
· (Ps 68:32 GNB)
· Praise the LORD, all nations! Praise Him, all peoples! (Ps 117:1 GNB)
Ps 148:3-13 GNB:
Praise Him,
· sun and moon
· shining stars
· highest heavens, and the waters above the sky
Let them all praise the name of the LORD!
Praise Him,
· hills and mountains
· fruit trees and forests
· all animals, tame and wild
· reptiles and birds.
Praise Him,
· kings and all peoples
· princes and all other rulers
· young women and young men
· old people and children too
Let them all praise the name of the LORD!
EVERYWHERE & ANY TIME
Sing to the LORD, and praise Him! Proclaim every day the good news that He has saved us. (Ps 96:2 GNB)
From the east to the west praise the name of the LORD! (Ps 113:3 GNB)
… and I praise and honour You all day long. (Ps 71:8 CEV)
Sing to GOD a brand-new song, sing his praises all over the world! (Isa 42:10 MSG)
…. Although no human praise is great enough
"Stand up and praise the LORD your God; praise Him forever and ever! Let everyone praise his glorious name, although no human praise is great enough." (Neh 9:5 GNB)