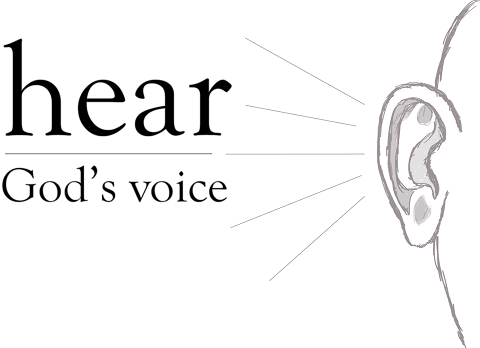 DOES GOD SPEAK TO HIS PEOPLE?
We often find that people are wondering about this question. In the Bible we read how God spoke to Moses, like one would speak to a friend: "The LORD would speak with Moses face-to-face, just as someone speaks with a friend" (Exo 33:11). He spoke through the prophets, through visions and dreams, through angels, through symbolic actions, through miracles. But now we can ask ourselves: what about today, what about me? Does God still speak to us, and if so, how can I know His voice, how can I hear His voice?
KNOW GOD PERSONALLY
The first and most important step to hear the voice of God, is to have an intimate relationship with Him. This means that you have to commit your life to Him, accept Him as your Saviour, love Him with all your heart and long for His presence in your life - be God-centred not self-centred. We must seek Him as our greatest treasure, and spending time with Him our highest priority.
We must seek the Lord for Himself alone, not for what He can do for us, or give us.
KNOW HIS VOICE
We know God's voice, because we know HIM. Jesus says, "My sheep hear My voice, and I know them, and they follow Me." (John 10:27) The better we get to know God the more clearly we will recognize His voice. Someone said: "God's voice is His Holy Spirit, the Spirit of Love, so the voice of God is the sound of Love."
HE WANTS TO SPEAK TO US
God created us for the supreme purpose of having a love relationship with Him. He longs for us to abide in Him, to feast on His love. He wants us to enjoy fellowship with Him as our dearest Friend. He definitely wants to talk to us. And He wants us to listen and talk to Him, too.
IF YOU WANT TO HEAR HIS VOICE, COME WHOLEHEARTEDLY TO HIM
God wants us to come to Him and experience Him. The following are things that He requires of us when we approach Him :
He says: Make Me your greatest treasure so I can give Myself to you.
Love the Lord your God with all your heart, with all your soul, with all your mind, and with all your strength. (Mark 12:30)
He says: Search for Me with your whole heart so I can reveal Myself to you.
You will seek Me, and you will find Me because you will seek Me with all your heart. (Jer 29:13)
He says: Trust Me with your whole heart so I can guide your steps.
Trust in the LORD with all your heart. Never rely on what you think you know. Remember the LORD in everything you do, and He will show you the right way.
(Prov 3:5-6)
He says: Praise Me with your whole heart so I can gift you with My presence.
I will praise you, LORD, with all my heart; I will tell of all the wonderful things you have done. (Ps 9:1)
He says: Return to Me with your whole heart so I can be compassionate and bless you.
Come back to the LORD your God. He is kind and full of mercy; He is patient and keeps His promise; He is always ready to forgive and not punish. (Joel 2:13)
HOW DOES GOD SPEAK TO US TODAY?
He can speak through:
The Bible
According to 2 Tim 3:16, all Scripture is God-breathed, therefore it is God's Word and the most obvious way that He speaks to us today. In Heb 4:12 we read that God's Word is alive and active, which means that we can apply it in our everyday living.
Other People
Many times God will use other people to try to get through to us. It's possible for God to use anyone at any time, but He often speaks through Christian friends, pastors, etc.
Our Circumstances
God sometimes speaks through circumstances, through opening and closing doors of opportunity. Sometimes the only way God can teach us something is to allow certain circumstances in our lives.
The Still Small Voice
Most of the time God uses a tiny voice inside us to let us know when we're not on the right path. Some people call it "the voice of peace." Whenever we're planning something and we don't have peace about it, it's a very good idea to stop and carefully look at the options. There's a reason you don't feel peace about it.
The Actual Voice
Sometimes we're able to "hear" something in our spirit that sounds to us like an actual audible voice. Or all of a sudden, you just know you heard something. Pay attention to those occasions because it is very likely God trying to tell you something.
WE HAVE THE MIND OF CHRIST
When we accept Christ and His sacrifice for us, He then puts His Spirit in us, the Holy Spirit. The Holy Spirit is our bond with God. "But anyone who is joined to the Lord is one in spirit with Him". (1Cor 6:17)
Through the indwelling of the Holy Spirit, God speaks directly into our hearts - our inner being, our emotions, our soul. The Holy Spirit communicates the deep things of God to us. "God's Spirit has shown you everything. His Spirit finds out everything, even what is deep in the mind of God. You are the only one who knows what is in your own mind, and God's Spirit is the only one who knows what is in God's mind". (1Cor 2:10-11)
It is through the Holy Spirit that we have been given the mind of Christ: " But we have the mind of Christ", 1Cor 2:16. That word "mind" means that we have inside of us Christ's thoughts, Christ's will, and the emotions of Christ. We are not to be guided by our physical mind, which is our thoughts, our will, and our emotions (the flesh); but we are to be guided by the Holy Spirit who communicates to us the thoughts of God, the will of God, and the emotions of God.

DIFFERENT VOICES
Now that we know we can hear God's voice, we need to be alerted to the fact that there are other voices whispering into our ears as well. In fact, there are three voices that we can hear - the voice of God, the voice of our own fleshly desires, and the voice of the Devil.
Recognize the voice of the Devil:
When he speaks, his voice comes to:
Deceive you, discourage you, cause you to be bitter, cause confusion, cause you to rationalize sin, cause you to lie, cause you to doubt God's Word, bring you fear, cause you to lose hope, cause you to seek revenge, stir up unforgiveness, cause you to be ashamed of the gospel, cause division in your family, church or business, cause you to disobey the Word of God, inspire rage and anger.
Recognize the voice of the flesh:
If you follow the voice of your flesh, your own desires, the result will always be negative. You know that you are listening to the voice of your flesh when you are busy with:
· Adultery - unlawful sexual relations between a man and a woman
· Uncleanness - homosexuality, lesbianism, sexual perversion
· Idolatry - worship sports stars, movie stars, music icons, preachers, money, etc.
· Witchcraft - includes drug use, spells, luck charms, horoscopes, zodiac signs
· Hatred - hold grudges and be angry at someone
· Drunkenness - public or private intoxication, addiction
· Jealousy, envy, gossip, etc.
Recognize the Voice of God:
You know you are hearing the voice of God when you hear words that:
· Give instructions for right living (2Tim 3:16)
· Remind you of the Word of God (John 14:26)
· Guide you into Truth (John 16:13)
· Comfort you (John 14:16)
· Rebuke and reprove you (Titus 1:13, 2Tim 4:2)
· Convict you of sin (Rom 6:1-23)
· Lead you to salvation (Rom 10:9-10, 2 Tim 3:15)
· Assure you of the Heavenly Father's love toward you (1John 3:1, Jer 31:3)
· Teach you (Eph 6:4)
· Increase your faith (Rom 10:17)
BE STILL ….
Usually God speaks in a still, small, quiet voice (read 1 Kings 19:11-13), therefore we need to be still to hear His voice. Even if there is not a quiet place where we can go to, there is always a quiet place in our inner being were we can go and spend time with God. "Be still and know that I am God" (Ps 46:11). We need to be at peace, relaxed, comfortable, undisturbed and alone. We need to focus our mind and thoughts on the Lord Jesus. Some Bible reading, praying, singing or listening to worship music can help with this. Meditate on the words that are read, sang or prayed, try to visualize it (make a picture of it in your mind). Now concentrate on the thoughts that come up in your mind, write them down, and test if they are from the Lord.
HOW CAN I BE SURE THAT IT IS GOD SPEAKING?
If you feel that God is speaking a message to you but you are not really sure if it is from God, here are some good questions to ask your self about the message:
· Does it line up with the Holy Bible, the written scriptures?
· Does it lead you into a closer relationship with God, a greater unity with Him?
· Does it lead you into loving God and others more?
· Does it bring a greater manifestation of Christ in you?
· Does it cause greater humility in you, and a greater dependence upon God?
· Does it cause greater love, joy, and peace from God in you?

BE STILL …. LISTEN …. OBEY
"See that you give ear to His voice which comes to you." (Heb 12:25)