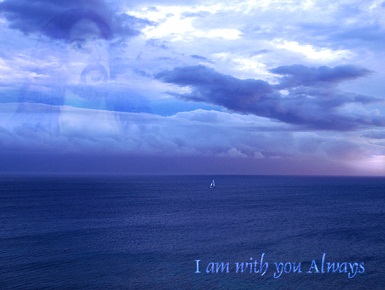 I AM ALWAYS WITH YOU
"I am a God who is everywhere and not in one place only. No one can hide where I cannot see them. Do you not know that I am everywhere in heaven and on earth?" (Jer 23:23-24)
This is a wonderful, comforting, encouraging promise from our God. It is actually more than a promise, it says who God IS, it describes His character.
He is always present
He is present everywhere.
He is near, even right here, NOW! This is the omnipresent God whom we worship - the God who is with us and will never leave us.
GOD'S OMNIPRESENCE
God's omnipresence means that God is present in all places. There is no place where He is not.
" … to fill the whole universe with His presence" (Eph 4:10)
As humans it is difficult for us to understand how it is possible for God to be everywhere, fill every space, know everything, see everything … Because He is Spirit, He is not confined to a three dimensional existence.
Someone said "If God's power is in every place, and God's power is an aspect of His essence, then the whole of God's essence exists in every space. All of what He is can be found in every place"
PSALM 139: HIS PRESENCE IS EVERYWHERE
Psalm 139 has one of the most well-known descriptions of God's omnipresence:
Where can I go to get away from your Spirit?
Where can I run to get away from You?
If I go up to heaven, You are there. If I make my bed in hell, You are there.
If I climb upward on the rays of the morning sun
or land on the most distant shore of the sea where the sun sets,
even there your hand would guide me
and your right hand would hold on to me. (Ps 139:7-10)
His presence is everywhere. As you can see from the Scripture this means that:
· God sees into every place, He sees everything
· His "hand", His power is available in every place and situation
· God acts in all spaces.
ONLY GOD IS EVERYWHERE
Omnipresence is an attribute of God alone. No creature possesses it, so it is definitely not something that Satan has. I think there are people who think that Satan knows everything and he can be everywhere - he isn't! Only God is.
EVERYTHING TAKES PLACE IN HIS PRESENCE
We can know for sure that everything that happens to us takes place in God's presence. He is always there beside us and in us and around us with His guiding hand - a right hand that can grab hold of us when we need it. Nothing happens to us outside of the presence of God himself, and so nothing happens outside the knowledge and the power of the God who is forever working good things.
You are all around me-in front of me and in back of me. You lay your hand on me. (Ps 139:5)
WHAT DOES THIS MEAN TO US, AS GOD'S CHILDREN?
When I hear that my Redeemer-God, the Creator of everything, the Almighty God, is everywhere present, I am filled with awe and amazement. I feel strong, I feel secure, I feel blessed... because:
1) I AM NOT ALONE
Because God is everywhere, He is with me and everywhere I go, I can be sure of His presence. Whether I am alone in my bed, sick in a hospital room, next to the grave of a loved one, accused in a courtroom, forgotten in prison or in a crowd of people - God is next to me.
Do not be afraid or discouraged, for I, the LORD your God, am with you wherever you go. (Jos 1:9)
2) HE WIL NOT LEAVE ME
God will not turn His back on me, or abandon me, as my friends and family can do. His promises are:
For God has said, "I will never leave you; I will never abandon you."
(Heb 13:5)
The LORD will not abandon His people; He will not desert those who belong to Him. (Ps 94:14)
3) IN EVERY DIFFICULT SITUATION HE IS THERE WITH ME
I do not need to face difficulties on my own, I know that God's strong, eternal hand is there to help and guide me.
Even if I go through the deepest darkness, I will not be afraid, LORD, for You are with me. (Ps 23:4)
When you pass through deep waters, I will be with you; your troubles will not overwhelm you. (Isaiah 43:2)
4) HE IS NEXT TO ME TO HELP ME
In any situation, with any task I have to do, I can count on God's help.
Let us be bold, then, and say, "The Lord is my helper" (Heb 13:6)
Oh, look! God's right here helping! GOD's on my side. (Ps 54:4 Message Bible)
5) HE TAKES NOTICE OF EVERYTHING THAT IS HAPPENING TO ME
But You do see; You take notice of trouble and suffering and are always ready to help. (Ps 10:14)
6) HIS ARMS ARE AROUND ME TO COMFORT ME
When I feel discouraged, or worried, or anxious, when I need a hug - I can remember that God is right by my side, with His comforting arms around me.
If your heart is broken, you'll find GOD right there; if you're kicked in the gut, He'll help you catch your breath. (Ps 34:18 Message Bible)
Whenever I am anxious and worried, You comfort me. (Ps 94:19)
7) HE LISTENS TO ME
God is with me, therefore I can speak to Him, like I speak to a friend that is real and next to me… and He will listen and react in communication with me.
Then you will call to Me. You will come and pray to Me, and I will answer you. (Jer 29:12)
When you pray, I will answer you. When you call to Me, I will respond. (Isaiah 58:9)
8) I AM SAFE
Because I know that God is with me, I know that I am safe and protected from any danger. I can always have the "feeling" that I am IN a safe, strong shelter. When there is danger, or I feel afraid, I can run into my safe hiding place.
The eternal God is your shelter, and His everlasting arms support you. (Deut 33:27)
I will always be with you to save you; My presence will protect you on every side. (Isaiah 58:8)
God is our refuge and strength, an ever-present help in times of trouble. (Ps 46:1)
I lie down and sleep, and all night long the LORD protects me. (Ps 3:5)
9) NOTHING CAN SHAKE ME
When I feel as if things are too much for me, I can just remember that God will lift me up.
The minute I said, "I'm slipping, I'm falling," Your love, GOD, took hold and held me fast. When I was upset and beside myself, You calmed me down and cheered me up. (Ps 94:18-19 Message Bible)
I am always aware of the LORD's presence; He is near, and nothing can shake me. (Ps 16:8)
10) WHEN I CRY, HE KNOWS ABOUT IT
Because He is always with me, certainly He knows when I am sad, when I cry, when I experience heartache …
You've kept track of my every toss and turn through the sleepless nights, Each tear entered in Your ledger, each ache written in Your book. (Ps 56:8 Message Bible)
11) I AM FILLED WITH JOY
… Your presence fills me with joy and brings me pleasure forever. (Ps 16:11)
… celebrate in God's presence … overflow with joy. (Ps 68:3)
GOD KNOWS ABOUT MY SIN
Of course, God's omnipresence also means that none of our sins are hidden from Him. I can hide my sins from other people, but never from God. He watches people everywhere and knows what they are doing. (Ps 11:4)
Knowing this, I really want to please God with the things I do, and therefore, I will live more carefully, more aware of the wrong things in my live. I also know that I can confess my sins and be assured that He is there to hear my confession, and to see that I really feel sorry for what I have done wrong.
But if we confess our sins to God, He will keep His promise and do what is right: He will forgive us our sins and purify us from all our wrongdoing. (1John 1:9)
BELIEVE THAT GOD IS WITH YOU
God's presence is with you, but you have to make a choice to believe -and I mean, really believe - that this is true. This decision is yours alone. Ask yourself, Am I going to trust in His comforting presence? Will I acknowledge His omnipresent reality? Will I allow Him to strengthen my soul? Or will I believe a lie and cry out, as so many do, "You are not near! You don't care for me, do You, God?" [from: The God You're Looking For p. 35]
REMIND YOURSELF THAT GOD IS WITH YOU
God is really, really with you at this moment. Sometimes we have to remind ourselves about this fact, and maybe the following can help you:
First you need to consciously remind yourself that God is near. Remind yourself that "the presence of the Lord is in this place". Remind yourself of the promise that "He will never leave you nor forsake you." Focus on HIS strength, HIS power, HIS ability.
Second, consciously place yourself in His arms. Remind yourself that the Lord is beside you , you can even say these words aloud: "Lord, I know You are here, and now I take Your hand and ask You to help me, to guide me, to comfort me, to protect me …" (or whatever your need may be)
God says: I am always with you …