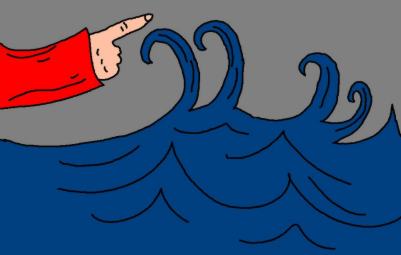 IN THIS WORLD WE WILL HAVE DIFFICULTIES
John 16:33 In this godless world you will continue to experience difficulties ("difficulties" according to the Amplified Bible: tribulation and trials and distress and frustration)
- This may sound like a negative beginning-of-the-year message...
- Shouldn't we just wish one another a prosperous new year, one without tribulations? one without pain & sorrow? one where will be free and happy?
- Shouldn't we speak about having hope for a new and bright future?
- Shouldn't we hope that our dreams will finally come true?
- Shouldn't we only speak about good news?
- Shouldn't we look forward to an abundant, trouble free life ?
Unfortunately this is the truth: in this world we will have difficulties/troubles/tribulations.
THE DISCIPLES IN A STORM
Matt 8:19-27 – here we read about a storm in which Jesus' disciples were caught up:
A teacher of the Law came to him (Jesus). "Teacher," he said, "I am ready to go with you wherever you go." Jesus answered him, "Foxes have holes, and birds have nests, but the Son of Man has no place to lie down and rest." Another man, who was a disciple, said, "Sir, first let me go back and bury my father." "Follow me," Jesus answered, "and let the dead bury their own dead." Jesus got into a boat, and his disciples went with him. Suddenly a fierce storm hit the lake, and the boat was in danger of sinking. But Jesus was asleep. The disciples went to him and woke him up. "Save us, Lord!" they said. "We are about to die!" "Why are you so frightened?" Jesus answered. "What little faith you have!" Then he got up and ordered the winds and the waves to stop, and there was a great calm. Everyone was amazed. "What kind of man is this?" they said. "Even the winds and the waves obey him!" (Matt 8:19-27)
WHEN WE ARE FOLLOWERS OF JESUS THERE WILL BE STORMS
- I am ready to go with you wherever you go.... Jesus says: follow me; Jesus got into the boat, and the disciples followed Him – not knowing that they are following Him into a storm
- by getting into the boat with Jesus, they got into the danger of sinking in the storm, even of dying in the storm

WHAT STORMS DID YOU EXPERIENCE THE PAST YEAR IN YOUR LIFE? ... AND: WHAT STORMS CAN LIE AHEAD OF US IN THE NEW YEAR?
- illness
- death of a loved one
- lose your possessions
- be rejected by family
- lose a court case
- get divorced
- without a job or income
- shattered dreams
- loneliness
WHAT DO WE DO IN THE STORM?
Panic? Blame others, or God? Try to save yourself?
No! We can:
a) Run to Jesus, call out to Him, cling to Him
- do what the disciples did: RUN to Jesus. CALL out to Him. "Save us, Lord!"
- Come near to God, and He will come near to you (James 4:8)
- Everyone who calls out to the Lord for help will be saved (Rom 10:13)
- CLING to Him – do not let go... even if the storm is because of your own mistakes
- I cling to you, and your hand keeps me safe. (Ps 63:8)
- Do not turn your back on Jesus – if you have done this, do like the lost son today and make a decision to go back to your Father – He is waiting with open arms, with a feast prepared for YOU.
b) Acknowledge that you cannot save yourself
- do not rely on your own strength/wisdom/knowledge
- do not make your own plans
c) Do not be afraid
- to be afraid can be a sign of unbelief/doubt
We can boldly quote, God is there, ready to help; I'm fearless no matter what. Who or what can get to me? (Heb 13:6)
Who, then, can separate us from the love of Christ? Can trouble do it, or hardship or persecution or hunger or poverty or danger or death? (Rom 8:35)
NO storm is bigger than God!
d) Focus on who God is & BELIEVE it
- do not tell God how big your storm is, tell the storm how big your God is
- believe that God is in control
- believe that Jesus is there in the boat with you
- believe that he has power over the storm
- believe that he will act on the right time
WHAT DOES JESUS DO IN THE STORM?
a) He is there
- He is there in the storm with you
- He listens when you call to Him
- sometimes it may look as if He is asleep, or absent BUT we know that He will never slumber of sleep (Ps 121:4), The LORD will guard you; He is by your side to protect you. (Ps 121:5)
When you pass through deep waters, I will be with you; your troubles will not overwhelm you. When you pass through fire, you will not be burned; the hard trials that come will not hurt you. (Isa 43:2)
b) He knows / He sees
- He knows what you are going through – read to this "boat-story" from Mark 6:
At once Jesus made his disciples get into the boat and go ahead of him to Bethsaida, on the other side of the lake, while he sent the crowd away. After saying good-bye to the people, he went away to a hill to pray. When evening came, the boat was in the middle of the lake, while Jesus was alone on land. He saw that his disciples were straining at the oars, because they were rowing against the wind; so sometime between three and six o'clock in the morning, he came to them, walking on the water. He was going to pass them by, but they saw him walking on the water. "It's a ghost!" they thought, and screamed. They were all terrified when they saw him. Jesus spoke to them at once, "Courage!" he said. "It is I. Don't be afraid!" Then he got into the boat with them, and the wind died down. The disciples were completely amazed. (Mar 6:45-51)
NOTE that Jesus was praying AND watching as they were suffering in the wind. For a long time He didn't act, He only came to their rescue hours later.
BACK TO JOHN 16:33 – the rest of the verse:
I've told you all this so that trusting me, you will be unshakable and assured, deeply at peace. In this godless world you will continue to experience difficulties. But take heart! (cheer up/be brave/take courage) I've conquered the world. (John 16:33)
WHAT SHOULD WE DO IN THE STORM?
- trust
- cheer up
- be brave
- be confident
- take courage
WHAT WILL BE THE RESULT?
- we will be unshakable
- assured
- deeply at peace
(Phil 4:7 – and God's peace which is far beyond human understanding will keep your hearts and minds safe)
JESUS HAS CONQUERED THE WORLD!
According to the amplified Bible: I have deprived it of power to harm you and have conquered it for you.