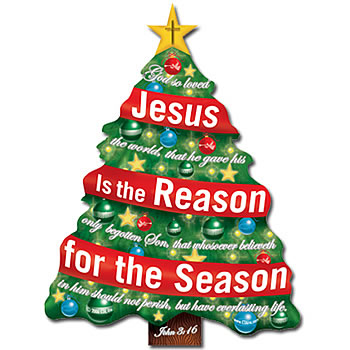 CHRISTMAS: IT'S ONLY ABOUT JESUS
Christmas is the celebration of the birth of Jesus Christ, the Son of God, our Saviour, the King above all.
We can never celebrate the birth of Jesus without looking ahead to His death on the cross, where He paid for every sin.
We can never celebrate the cross without looking ahead to His resurrection and to His ascension. Jesus went to heaven, where He is preparing a place for us. Now we are looking forward to the day that He will come again on the clouds.

"For God loved the world so much that he gave His only Son, so that everyone who believes in Him may not die but have eternal life." (John 3:16 GNB)
CHRISTMAS: IT'S NOT ABOUT…..
Christmas is not about having a feast of food, wearing a Christmas hat, blowing a whistle, singing Jingle Bells and having a party until midnight. It's not about wrapping and unwrapping of gifts, it's not about Father Christmas in his red suit, not about spending money, sending cards, eating fruitcake …. No! Jesus should be the only reason why we celebrate Christmas.
GIFTS JUST FOR YOU … FROM GOD
God gives you some everlasting gifts this Christmas. It is not wrapped in shiny gift-wrapping, no, it is wrapped in strips of cloth. The gift is not under a Christmas tree, but in a manger. The gift is His Son, Jesus, the Saviour of everyone who believes in Him.
God gives you a light that can shine in the darkness of this sinful world. The Light is bright and beautiful and invites you to God. Jesus is the light. "I have come into the world as light, so that everyone who believes in Me should not remain in the darkness." (John 12:46 GNB)
God gives you a cross, the cross where Jesus paid for every sin, where He bought you with His blood, where you can be cleansed and set free, where you can receive eternal life. Jesus is the Saviour. "Christ Jesus came into the world to give salvation to sinners" (1Tim 1:15 BBE); "This very day your Saviour was born -Christ the Lord!" (Luke 2:11 GNB)
God gives you a crown. He makes you His child, the child of the King. "So a crown will be given to me .." (2Tim 4:8 CEV) Jesus is the King. "He is the King of kings and Lord of lords." (1Tim 6:15 GW)
Any gift that you may receive this Christmas won't last very long and it won't give you joy forever. It may be something that you cannot use … maybe you expected something better, bigger, brighter! Maybe you won't even receive any gifts!
BUT the gift from God is forever, it is free, it is all you need. "..God's free gift is eternal life in union with Christ Jesus our Lord." (Rom 6:23 GNB) "Let us praise God for his glorious grace, for the free gift He gave us in His dear Son!" (Eph 1:6 GNB)

YOUR GIFT TO HIM
Give yourself to Jesus this Christmas. "So then, my friends, because of God's great mercy to us I appeal to you: Offer yourselves as a living sacrifice to God, dedicated to His service and pleasing to Him." (Rom 12:1 GNB)
Jesus, all for Jesus
All I am and have and ever hope to be
Jesus all for Jesus
All of my ambitions, hopes and plans
I surrender these into Your hands…
"Lord I give You my heart, I give You my soul, I live for You alone"
MAKE ROOM FOR JESUS
When Jesus was born in Bethlehem there was no room available for Him in the inn, except in the manger. "She gave birth to her first Son, wrapped Him in cloths and laid Him in a manger - there was no room for them to stay in the inn." (Luke 2:7 GNB)
This Christmas … will you make room for Jesus in your heart? He wants to come into your heart… "Listen! I stand at the door and knock; if anyone hears my voice and opens the door, I will come in and eat with them, and they will eat with Me." (Rev 3:20 GNB)
Even if Jesus was born a thousand times, and He was not born in your heart, Christmas will be meaningless to you.
Make room for Him today …. "But to all who did receive Him, who believed in His name, He gave the right to become children of God" (John 1:12 ESV)

THE TRUE MEANING OF C H R I S T M A S

C is for the Christ child who was born 2000 years ago in a manger in Bethlehem.
"… and you will have a son. His name will be Jesus. He will be great and will be called the Son of God Most High." (Luke 1:31,32 CEV)
H is for the hope Jesus brings to all who believe in Him and trust Him for their salvation.
"We have put our hope in the living God, who is the Saviour of everyone, but especially of those who have faith." (1Tim 4:10 CEV)
R is for the resurrection of Jesus Christ who was born of a virgin, lived a sinless life, was both man and God, died on the cross for all our sins, and then was raised from the dead and is now sitting at the right hand of God in heaven.
"Blessed be the God and Father of our Lord Jesus Christ! According to His great mercy, He has caused us to be born again to a living hope through the resurrection of Jesus Christ from the dead." (1Pet 1:3 ESV)
I is for Immanuel - God with us. "A virgin will have a baby boy, and he will be called Immanuel," which means "God is with us." (Mat 1:23 CEV)
S is for the salvation that Jesus offers to all who are willing to confess their sin, believe in Him, and profess their believe in Jesus.
"Only Jesus has the power to save! His name is the only one in all the world that can save anyone." (Acts 4:12 CEV)
T is for the empty tomb on Easter morning.
"He isn't here! God has raised Him to life." (Mat 28:6 CEV)
M is for the mercy God has shown the world by sending His only son to suffer for our sins and bridge the gap between man and God.
"But God was merciful! We were dead because of our sins, but God loved us so much that he made us alive with Christ, and God's wonderful kindness is what saves you." (Eph 2:4 CEV)
A is for our awesome God who loves us all unconditionally.
"But God has shown us how much He loves us - it was while we were still sinners that Christ died for us! By His blood we are now put right with God … (Rom 5:8,9 GNB)

S is for the shining light that Jesus brought into the world.
"Then again Jesus said to them, I am the light of the world; he who comes with Me will not be walking in the dark but will have the light of life." (Joh 8:12 BBE)
May this Christmas be different, than any other day before. May Jesus be born in your heart, and may He give you peace and joy, and the free gift of eternal life.