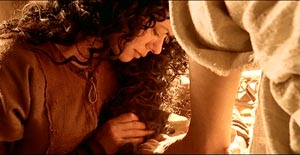 JOHN 12:1-11
Six days before the Passover, Jesus went to Bethany, the home of Lazarus, the man he had raised from death. They prepared a dinner for him there, which Martha helped serve; Lazarus was one of those who were sitting at the table with Jesus. Then Mary took a whole pint of a very expensive perfume made of pure nard, poured it on Jesus' feet, and wiped them with her hair. The sweet smell of the perfume filled the whole house. One of Jesus' disciples, Judas Iscariot---the one who was going to betray him---said, "Why wasn't this perfume sold for three hundred silver coins and the money given to the poor?" He said this, not because he cared about the poor, but because he was a thief. He carried the money bag and would help himself from it. But Jesus said, "Leave her alone! Let her keep what she has for the day of my burial. You will always have poor people with you, but you will not always have me." A large number of people heard that Jesus was in Bethany, so they went there, not only because of Jesus but also to see Lazarus, whom Jesus had raised from death. So the chief priests made plans to kill Lazarus too, because on his account many Jews were rejecting them and believing in Jesus. The next day the large crowd that had come to the Passover Festival heard that Jesus was coming to Jerusalem.
BACKGROUND
- John 12 happens just before the Passover; it is about a week before the crucifixion of Jesus
- it is just after Jesus raised Lazarus from death (he was already 4 days in the grave)
THE DINNER
- it was not just an ordinary meal – they prepared a feast, a party, in honour of Jesus
- it was for their friend, Jesus – to show their love and respect
- it was to celebrate that Lazarus is alive
- it was to thank Jesus for what He did for them by raising their brother from death
- it was to honour Him for:
o revealing His power and His identity
o His love for them
o the grace that He showed towards them
DIFFERENT PEOPLE AT THE DINNER PARTY
LAZARUS
- by just sitting there at the table with Jesus, he was bringing glory to the Name of Jesus, it was a proof of His power, the proof of His love
- his life and presence was a testimony to the greatness of God.
- Lazarus was a living and walking miracle – everybody who saw him, knew that he was now alive, after being dead for 4 days!
- According to verse 11 many people believed in Jesus because of what happened to Lazarus – people went to Bethany just to SEE him, to be sure that he was really alive.
WHAT CAN WE LEARN FROM LAZARUS?
- When we met Jesus, and invited Him into our lives, accepted Him as Saviour, He also raised us from the death to live as a new creation. We know that even when our bodies will be dead, we will be raised into eternal life, because of the blood of Jesus Christ.
- John 11:25&26: "I am the resurrection and the life. Those who believe in ME will live, even though they die, and all those who live and believe in Me will never die"
- Our lives must also be a testimony of the Saving power of Jesus, of His grace, His love for everybody
- We must live in such a way that people will come to see us, that people will want to be WITH us, because we have Christ in us, because we were healed and raised by Him
MARTHA
- she was the sister of Lazarus
- she was the hostess at the party – she probably prepared all the food, got everything ready – bought the food, cooked the food, and now she is also serving the food
- This is also what happened a previous time when Jesus and his disciples visited with Martha and Mary in their home, as is told in Luke 10:38-42. She was the one who welcomed Him in her home, and did all the hard work. But this time she was upset with her sister who just sat with Jesus, while she had to do all the hard work – she even complained about it, and asked Jesus to tell Mary to help her!
- But at this feast, she was happy to be the servant
- She put on her apron of humility and served everybody – out of love and gratitude towards Jesus, and the gladness about her brother being alive.
- She finds pleasure in being a waiter at Christ's table
WHAT CAN WE LEARN FROM MARTHA?
- be willing and ready to serve Jesus, to serve his disciples, his children
- serve with love in your heart
- serve your family, your friends, your fellow Christians, and people who are in need
- Gal 5:13 .. let love make you serve one another
- How can I serve JESUS today?
MARY
- like before in Luke 10 (sitting at His feet), Mary was just focused on Jesus – she couldn't be bothered with the preparations and the food, or the other people at the dinner, she "only had eyes for HIM"
- she took a half liter, very expensive, pure perfumed oil (NARD) and pour it out on Jesus' feet
- expensive oil: it is said that the oil could be sold for 300 silver coins, which was equivalent to about one years salary for a labourer – don't count the cost when you offer something to Jesus
- half liter oil: usually only a few drops of oil was used to anoint someone, this was a lot of oil – she gave everything to Him, didn't hold back anything
- pure oil: it was the best
- For her wedding day? – it is said that this oil was probably bought and saved for her wedding day – but now she gives herself to Jesus, her bridegroom, by pouring out this oil on his feet
- on his feet – usually when someone was anointed, the oil was put on his head … to anoint the feet asked for humility, for bowing down to Jesus, for not thinking about herself
- furthermore! – she let her hair down, and wiped his feet with her hair. For a woman to let her hair down in public, was very humiliating – it was what prostitutes did. This was a VERY deep, personal act of love and worship, of GIVING herself to Jesus, of proclaiming in front of everybody that she loved and respect Him, that He is the most important person for her … her bridegroom! By this acts she commits herself to Him, she accepts His love for her.
- This was such an act of abundant giving, loving, worship, adoration, that it is said in Mark 14 where the same story is told: "wherever the gospel is preached, this event will be repeated so that everyone will know of this woman's devotion the Jesus"
WHAT CAN WE LEARN FROM MARY?
- give myself and my things to Jesus
- give myself to Jesus: Rom 12:1 "offer yourselves as a living sacrifice to God, dedicated to his service and pleasing to Him. This is the true worship that you should offer"
- give everything of my best to Him
- love and honour Him deeply
- be radical for Him – do things out of the ordinary – don't worry what others will say about the way that I serve Him
- worship and adore Jesus in such a way that people will keep on speaking about it, after they have been in your presence
- total surrender – nothing of myself left (I cannot bow down at his feet with a crown on my head!)
- surrender ambitions, hopes and plans …
PRACTICAL QUESTIONS

How can I give myself to Him?
- in the first place of course through saying it to Him – declaring my love – in prayer and song
- by doing everything as if I am doing it for Him
- by speaking, thinking about Him
- by filling my mind with Him
- by being obedient to Him – what does He want me to do? Love Him and love others, forgive others, serve others, etc
How can I spend a year's salary on Jesus?
How can I pour out my best on Jesus?
How can I anoint Him?
* In Matt 25:40 Jesus says: … whenever you did this for one of the least important of these members of my family, you did it to ME! (Here He speaks about caring for the sick, helping the poor, etc)
* Jesus says we as His children are all part of His body …
- So, we can anoint His body with the sweet perfume of love, sympathy, joy, peace, kindness, faithfulness
- We can comfort, encourage, teach one another, pray for one another – and it will be like our precious oil to Him.
- We can share our belongings, give to the poor, help the needy – and it will be as if we give our best to Him! …the money spent for this, will be money spent on Him.

LAVISH HIM WITH OUR LOVE!