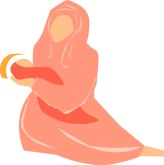 MARY CHRISTMAS
Yes, I mean M-A-R-Y, and not merry! The reason for this strange topic is found in Luke 1:30-32:
Mary, you have nothing to fear. God has a surprise for you: You will become pregnant and give birth to a Son and call His name Jesus. He will be great, be called 'Son of the Highest.'
.. and in Matt 1:23
The virgin will become pregnant and give birth to a Son, and they will name Him Immanuel, which means "God is with us."
As we celebrate Christmas this year, we can learn some lessons from the story about Mary, as it is found in Luke 1:26-56. We can read these words in the Bible and put ourselves in Mary's place … remember that we learn from her, we do not worship her.
MARY WAS A VIRGIN (Luke 1:27)
She was a young woman, who was pure and clean. She was set aside to be used by God.
Maybe you do not feel clean today, or worthy to be used by God. There is good news for you: if you come to Christ you can be cleansed and have a fresh start, a new beginning … He can make you a virgin!
The Bible says:
· Whoever is a believer in Christ is a new creation. (2Cor 5:17)
· .. I'll forever wipe the slate clean of their sins. (Heb 10:17)
· ..events of the past will be completely forgotten (Is 65:17)
God can use anyone, in spite of their past. Believe today that God has a special purpose for your life.
MARY RECEIVED A VISIT FROM AN ANGEL (Luke 1:28)
Mary lived in a small, insignificant little town, Nazareth, probably in a small and humble home. God visited her there where she was. It wasn't too small, too low or too poor for God.
You may be living in a place that you are shy of, but know for sure, that God wants to visit you where you are, and speak to you no matter what your physical boundaries are!
For He has had pity on His servant, though she is poor and lowly placed. (Luke 1:4)
THE LORD IS WITH MARY (Luke 1:28)
… and the Lord is with YOU. This is a promise from God Himself, and it is repeated over and over again in the Bible. Do you believe God when He says:
· "I will never leave you; I will never abandon you" (Heb 13:5)
· "… I will be with you to protect you. I, the LORD, have spoken!" (Jer 1:8)
· "When you pass through deep waters, I will be with you" (Is 43:2)
· "I will always be with you to save you; My presence will protect you on every side" (Isaiah 58:8)
· "And remember that I am always with you until the end of time." (Matt 28:20)
THE LORD HAS GREATLY BLESSED MARY (Luke 1:28)
The Lord will surely bless you: His favour is on you and you are special to Him. He planned you, and created you, He even counted the hair on your head: "He pays even greater attention to you, down to the last detail - even numbering the hairs on your head" (Matt 10:30)
"He celebrates and sings because of you" (Zeph 3:17) - this is how special you are!
DON'T BE AFRAID, MARY (Luke 1:30)
Please put you name in this verse, and hear God speaks to you today:
· "Do not be afraid - I am with you" (Is 43:5)
· Do not be afraid or discouraged, for I, the LORD your God, am with you wherever you go. (Jos 1:9)
With faith you can say:
Even if I go through the deepest darkness, I will not be afraid, LORD, for You are with me. (Ps 23:4)
MARY, GOD HAS BEEN GRACIOUS TO YOU (Luke 1:30)
God's grace is there for you today to accept as a free gift… open your heart to accept it.
· From his full measure we have all been given grace on grace. (Joh 1:16)
· His mercy flows in wave after wave on those who are in awe before Him. (Luke 1:50)
· … keeping your arms open and outstretched, ready for the mercy of our Master, Jesus Christ. This is the unending life, the real life! (Jude 1:21)
THE HOLY SPIRIT WILL COME ON MARY (Luke 1:35)
When you are a child of God, the Holy Spirit lives in you, He guides you and gives you power.
Don't you know that your body is the temple of the Holy Spirit, who lives in you and who was given to you by God? (1Cor 6:19)
When people yield their will to God and allow his Spirit full control of their lives, God will do wonderful things. God knows what He wants to do through each person. He will speak by his Spirit to each person, alerting his children to the necessary adjustments they need to make. Those who hear His voice and respond obediently will experience God's mighty power work through them.
The Spirit of the LORD will be with him to give him understanding, wisdom, and insight. He will be powerful, and he will know and honour the LORD. (Is 11:2)
GOD'S POWER RESTED ON MARY (Luke 1:35)
God will make you strong to face your daily situations, His power will work in you to make the right decisions, to follow Him and to serve Him.
· How awesome is God …. He gives strength and power to His people. Praise God! (Ps 68:3)
· My strength will always be with him, My power will make him strong. (Ps 89:21)
How wonderful that we are able to proclaim:
I have the strength to face all conditions by the power that Christ gives me. (Phil 4:13)

THERE IS NOTHING THAT GOD CANNOT DO (Luke 1:37)
By God's power a virgin can become pregnant, an old, barren woman can have a baby (like Elizabeth). With God anything is possible, and every detail of our lives is worked into something good.
"This is impossible for human beings, but for God everything is possible." (Matt 19:26)
Believe that anything is possible for God:
· A hopeless alcoholic can be set free
· A drug addict can find release
· A sinner can become God's child
· A deadly disease can be healed
· God can take away your sorrow and dry your tears
· God can give you light in the darkness
· God can give peace and rest in place of worry and anxiety
· God can make you strong when you feel weak.
"I AM THE LORD'S SERVANT", SAID MARY (Luke 1:38)
Mary commit herself to God, to serve and worship Him. What about you? Have you come to a place in your life where you have opened the door of your heart for God? Where you invited Him to be the Lord and Saviour? Where you said "Yes" to His calling in your life, and surrendered totally to His control? It is not too late - do it now.

MAY IT HAPPEN TO ME AS YOU HAVE SAID (Luke 1:38)
Mary surrendered to the control of God in her life. She is willing to follow where He may lead her, without knowing how difficult the path is going to be for her. Without knowing that she was going to face rejection and judgment from the community about the pregnancy, without knowing that her Son was going to be rejected by the church authorities, without knowing that she was going to watch as He was whipped, spat on, without knowing that His blood would be spilled and He would die right in front of her eyes …. Without knowing the future she was willing to trust God, she was willing to fulfill the purpose that God had for her, she was fully dedicated to her calling.
Are you willing to say: "May it happen to me as You have said"?
MARY SANG A SONG OF PRAISE (Luke 1:46-56)
Together with Mary, let us sing a song of praise to our God:
My heart praises the Lord's greatness, my soul gives glory to God, I magnify the Lord.
I am glad because of God, my Saviour. My spirit rejoices in the Lord for He has remembered me, His lowly servant. I'm the most fortunate woman on earth, He cares for me, His humble servant.
From now on all people will call me blessed and happy, what God has done for me will never be forgotten.
For He who is strong has done great things for me; His Name is holy.
From one generation to another He shows mercy to those who honour Him, His mercy lasts throughout every generation.
He displayed his mighty power, He showed His strength.
He scatters the proud and arrogant,
He has taken princes in their thrones and exalted the poor.
He has satisfied the hungry with good things,
He sent the rich away with empty hands,
And how He has helped His servant,
He has not forgotten His promise to be merciful.
Praise God my Saviour, my Redeemer and King!
THIS CHRISTMAS … CELEBRATE
THIS CHRISTMAS … SHARE
THIS CHRISTMAS … PRAISE GOD
Christmas is the time to remember God's grace and celebrate God's salvation through His Son Jesus Christ and share with those who haven't received it. Let us praise God, like Mary:
"My soul praises the Lord's greatness! My spirit finds its joy in God, my Saviour"
(Luke 1:46-47)