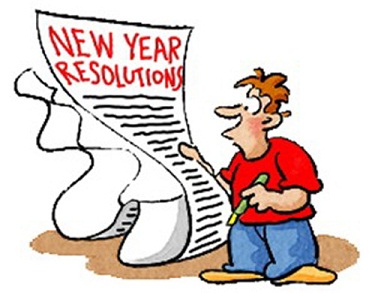 DID YOU MAKE A LIST OF YOUR NEW YEAR'S RESOLUTIONS?
At the start of a new year some people take the time to make a list of things they want to change in their lives, they list new things they want to do, as well as new dreams they want to follow. What is on your list this year?
The embarrassing thing about a new year's list is that most of the time, it is soon forgotten, the intentions are never reached and plans are never carried out.
WHAT WILL BE DIFFERENT THIS YEAR?
Remember that when you became a Christian God didn't take you out of your circumstances, He sent you back INTO your circumstances.
Everything is still the same, yet, everything can be different because YOU are different: anyone who belongs to Christ is a new person. The past is forgotten, and everything is new. (2 Cor 5:17 CEV)
CHANGE THE WAY YOU THINK ABOUT 2006!
Don't become like the people of this world. Instead, change the way you think. Then you will always be able to determine what God really wants-what is good, pleasing, and perfect. (Rom 12:2 GW)
Don't be fooled by the calendar. There are only as many days in the year as we make use of. One person gets a weeks value out of a year while another person gets a full years value out of a week
~ Charles Richards
SURRENDER EVERY ASPECT OF YOUR LIFE TO GOD
Let the Lord into every aspect of your life, not only the spiritual things, but also the everyday things …
A NEW KIND OF LIST FOR THIS YEAR
Make a different list this year. Study the Word of God to find out what He wants from you, what will please Him, and make a new decision to do the things that will be to the glory of God.
Well, whatever you do … do it all for God's glory. (1 Cor 10:31 GNB)
If you want God to go with you in 2006, you must to go with Him.

THE LIST ……
OCCUPATION or OTHER ROUTINE WORK
Submit to your boss, take orders, respect him: Servants, take orders from your masters with all respect; not only if they are good and gentle, but even if they are bad-humoured.
(1 Pet 2:18 BBE)
Do your job, as if you are doing it for the Lord: Whatever you do, work at it with all your heart, as though you were working for the Lord and not for people.
(Col 3:23 GNB)
CHILDREN
Commit to bring your children into a relationship with the Lord: My family and I are going to worship and obey the LORD!
(Jos 24:15 CEV)
Teach your children: Raise them properly. Teach them and instruct them about the Lord.
(Eph 6:4 CEV)
MARRIAGE
Respect your husband: … every wife must respect her husband.
(Eph 5:33 GNB)
Submit to your husband: Wives, understand and support your husbands by submitting to them in ways that honour the Master.
(Col 3:18 MSG)
Be faithful to your husband: Marriage is to be honoured by all, and husbands and wives must be faithful to each other.
(Heb 13:4 GNB)
LOVE LIFE
Avoid immorality: stay away from sexual sins. Other sins that people commit don't affect their bodies the same way sexual sins do. People who sin sexually sin against their own bodies.
(1 Cor 6:18 GW)
Don't let sexual sin, perversion of any kind, even be mentioned among you. (Eph 5:3 GW)
MONEY
Be satisfied with what you have: What did we bring into the world? Nothing! What can we take out of the world? Nothing! So then, if we have food and clothes, that should be enough for us.(1 Tim 6:7-8 GNB)
Don't love money: Keep your lives free from the love of money, and be satisfied with what you have. (Heb 13:5 GNB)
Guard yourself from greed: Don't be greedy! Owning a lot of things won't make your life safe.
(Luke 12:15 CEV)
QUIET TIME
Read the Bible and apply it in your life: Study it day and night, and make sure that you obey everything written in it. Then you will be prosperous and successful. (Jos 1:8 GNB)
Pray: Continue steadfastly in prayer, being watchful in it with thanksgiving. (Col 4:2 ESV)
Praise and worship: sing hymns and psalms to the Lord with praise in your hearts.
(Eph 5:19 GNB)
RECREATION
Don't waste your time on worthless things: Make the most of every chance you get. Don't live carelessly, unthinkingly. Make sure you understand what the Master wants. (Eph 5:15-17 MSG)
OUTWARD APPEARANCE
Don't spend too much time and money on your appearance: Beauty doesn't come from hairstyles, gold jewelry, or clothes. Rather, beauty is something internal that can't be destroyed. Beauty expresses itself in a gentle and quiet attitude which God considers precious.
(1 Pet 3:3-4 GW)
Charm can be deceiving, and beauty fades away, but a woman who honours the LORD deserves to be praised. (Prov 31:30 CEV)
SOCIAL RELATIONSHIPS
Be gentle: Show a gentle attitude toward everyone. (Phil 4:5 GNB)
Ingredients for a healthy relationship: you must clothe yourselves with compassion, kindness, humility, gentleness, and patience. Be tolerant with one another and forgive one another whenever any of you has a complaint against someone else. (Col 3:12-13 GNB)
Don't be jealous or proud, but be humble and consider others more important than yourselves. Care about them as much as you care about yourselves (Phil 2:3-4 CEV)
CONVERSATIONS
What are you speaking about? -It's not right that dirty stories, foolish talk, or obscene jokes should be mentioned among you (Eph 5:4 GW)
Do not gossip: A gossip can never keep a secret. Stay away from people who talk too much.
(Prov 20:19 GNB)
Do no hurt someone with your words: Don't say anything that would hurt another person. Instead, speak only what is good so that you can give help wherever it is needed. That way, what you say will help those who hear you. (Eph 4:29 GW)
Do not lie: …you must keep from speaking evil and stop telling lies. (1 Pet 3:10 GNB)
HELPING AND SERVING OTHERS
Ask yourself what you want people to do for you; then grab the initiative and do it for them!
(Luke 6:31 MSG)
But don't forget to help others and to share your possessions with them. (Heb 13:16 CEV)
Love your enemies and do good to them; lend and expect nothing back. (Luke 6:35 GNB)
The Lord is faithful and kind. He will help you and give you the courage and perseverance to keep every commitment that you have made!