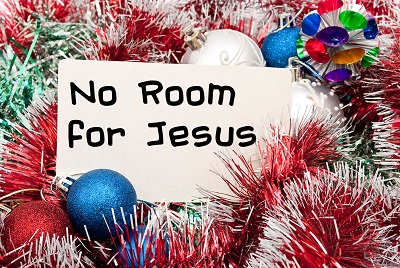 NO ROOM FOR JESUS
At that time Emperor Augustus ordered a census to be taken throughout the Roman Empire. When this first census took place, Quirinius was the governor of Syria. Everyone, then, went to register himself, each to his own hometown. Joseph went from the town of Nazareth in Galilee to the town of Bethlehem in Judea, the birthplace of King David. Joseph went there because he was a descendant of David. He went to register with Mary, who was promised in marriage to him. She was pregnant, and while they were in Bethlehem, the time came for her to have her baby. She gave birth to her first son, wrapped him in cloths and laid him in a manger-there was no room for them to stay in the inn. (Luke 2:1-7)
Our Christ was born on Christmas day in a lowly manger (the place where cattle had their food), on a bed of hay, because there was no room for Him in the inn …. There was no room for Him in the whole town of Bethlehem. There was no room for Him in Herod's heart, and there was no room for Him in the hearts of the religious leaders of His time.
More than 2000 years have past …. Is there room today for Jesus in our homes, our schools, our city, our politics, our relationships, our churches …?
Once again we decorate the Christmas tree, we wrap the gifts, again Santa Clause puts on his red suit, again we ponder on the memories of past Christmases, again we tell the story of Joseph and Mary, the shepherds and the wise men, again we sing "Silent Night" …
As we prepare ourselves to celebrate Christmas once again this year, let us fall on our knees and ask ourselves this important question: is there room in my heart, and in my life for Jesus Christ, the Son of God, the Saviour of the world, the King of kings, the Almighty, the Prince of peace?
NO ROOM AT THE INN
~ by Vern Caswell
Rush, rush, rush. Can't find the right toy.
Sorry folks, there's no room at the inn.
Rush, rush, rush, another office party.
Sorry folks, there's no room at the inn.
Rush, rush, rush. Lights, camera, action!
Sorry folks, there's no room at the inn.
Rush, rush, rush, high anxiety, where's God?
Sorry folks, there's no room at the inn.

Where is the God-child to be born?
Because there is no room at the inn.
Christmas madness, now and then.
There is no room at the inn.
Pregnant Mary and Joseph wander, searching
But there's no room at the inn.
A stable, barn, hay, dirt
Because there's no room in the inn.

Our Saviour, born a child in a manger
Because there's no room at the inn.
The worries of Christmas now and then
Because there's no room at the inn.

HOW IS IT POSSIBLE THAT THERE WAS NO ROOM FOR HIM WHEN HE WAS BORN?
The question that comes to mind is: did God forget to make room for His only Son? God did this on purpose:
The fact that there was no room in the inn, demonstrates that the world has rejected God. The world makes no room for God who has created the world!
There was no room in the inn because God wanted to show that His Son comes as a Saviour, as a servant, as One who loves those people who are sinners, outcasts, those who are weak, lost, unimportant, poor, lonely, worried, tired and helpless.
Being turned away at the inn foreshadows the fact that the Saviour will be rejected, despised and ultimately crucified, and that all this was part of God's plan from all eternity. He was hated and rejected. No one wanted to look at Him. We despised Him and said, "He is a nobody!" (Isa 53:3)
Ultimately the lack of room in the inn, symbolizes the lack of room we make for Him in our hearts. When our hearts are filled with all kinds of other desires than God, we gradually crowd Him out all together.
No room at the inn also means that we fail to make room for our brothers and sisters. After all, the second commandment is "love your neighbour".
Today, Jesus does not seek the inn, He seeks room in our own hearts and lives. He asks that as we welcome Him, we must also welcome everyone whom He welcomes.
HOW IS IT POSSIBLE THAT THERE IS NO ROOM FOR HIM TODAY?
It seems that there are not much room for Christ in the world we live in, for instance:
· The world tries to take Christ out of Christmas.
· Many say there is no room for God in this modern, fast-moving, self-sufficient world.
· The world says it doesn't need His law any longer, nor His love or the sacrifice He made for us.
· Some say they don't need His promises, because they are doing fairly well without Him.
· They don't have room for His way of doing things, because it doesn't fit in with their way.
· People don't have room on the throne of their lives for Jesus, because they want to sit there themselves!
HE CAN HAVE MY ROOM
We are the innkeeper of our hearts, of our lives. Is there room for Him? Is the inn full of other, unimportant guests? Will we MAKE room?
A story is told of a little boy who was to play the part of the Innkeeper in the annual children's Christmas play at his church. Each time during the rehearsal it came time for him to tell Joseph and Mary that there was no room, he couldn't say his lines. The director finally asked him why he was having so much trouble. He told him, "I just can't send Jesus away! He can have my room!"
Thanks to God, through the working of the Holy Spirit many of us have made room for Him:
· when we said "yes" to Jesus
· when we accepted Him as our Saviour
· when we accept and believe that His blood cleanses us from every sin
· when we confessed our sins, and turned away from our sinful lives
· when we made Him number 1 in our lives
· when we said: You can have MY room!
It is up to YOU this Christmas, to open the door of your heart, the door of your "spiritual inn", so that Jesus, YOUR Saviour can be born in your life. Say YES to Him, right now.
May the eternal light of Christmas shines in your heart today and for ever!