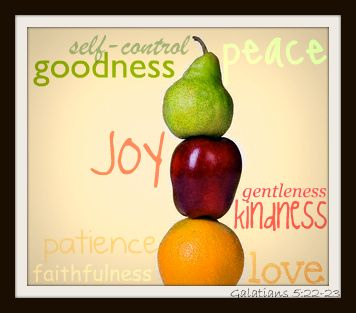 NO CHANGE, NO JESUS
Once you have accepted Jesus as your Saviour and Lord, you know that you have eternal life, and will go to heaven when you die. When you have this assurance in your heart, your life will change, and you will live according to the will of God. You will produce fruit in your everyday life that is pleasing to God that is useful in His kingdom, that will prove that you are His disciple and fruit that will glorify Him.
Do those things that prove you have turned to God and have changed the way you think and act. (Matt 3:8 GW)
…. and now you belong to Him who was raised from death in order that we might be useful in the service of God. (Rom 7:4 GNB). Now we do what God wants, we bear fruit for Him. He says:
I chose you and sent you out to produce fruit, the kind of fruit that will last. (John 15:16 CEV)
Gal 5:22 MSG: But what happens when we live God's way? He brings gifts into our lives, much the same way that fruit appears in an orchard - things like ……
……… Love, Joy, Peace,
Patience, Kindness, Goodness,
Faithfulness, Gentleness, Self-control
According to Col 3:12-13 we must produce the following fruit: compassion, sympathy, humility, quiet strength, discipline, and thankfulness. Be even-tempered, tolerant, content with second place, quick to forgive
Strive for righteousness, godliness, faith, love, endurance, and gentleness. (1Tim 6:11 GNB)
WE CANNOT PRODUCE ANY FRUIT ON OUR OWN
I am the vine, and you are the branches. If you stay joined to Me, and I stay joined to you, then you will produce lots of fruit. But you cannot do anything without Me. (John 15:5 CEV)
To produce fruit we must stay close to Jesus, we must focus on Him, and surrender ourselves to Him.
A TREE IS KNOWN BY THE KIND OF FRUIT IT BEARS
Every tree is known by the fruit it bears; you do not pick figs from thorn bushes or gather grapes from bramble bushes. (Luke 6:44 GNB)
A good tree cannot produce bad fruit, and a bad tree cannot produce good fruit. (Matt 7:18 CEV)
"If you grow a healthy tree, you'll pick healthy fruit. If you grow a diseased tree, you'll pick worm-eaten fruit. The fruit tells you about the tree. (Matt 12:33 MSG)
The way we live shows that we are children of God.
People can see our purity, knowledge, patience, kindness, the Holy Spirit's presence in our lives, our sincere love, truthfulness, and the presence of God's power. We demonstrate that we are God's servants (2Cor 6:6-7 GW)
THE FRUIT IS NOT FOR THE TREE ITSELF
When a tree produces fruit it is never for the tree to use for itself, no, it is for the use of others. That is why there are numerous scriptures with "one another" connected to the different fruit of the Spirit:

Love one another
Respect one another
Accept one another
Forgive one another
Serve one another
Help one another
Encourage one another
Do good to one another
Be concerned for one another
Be kind to one another
Be tenderhearted to one another
Live in peace with one another
Don't be concerned only about your own interests, but also be concerned about the interests of others. (Phil 2:4 GW)
Don't forget to do good things for others and to share what you have with them. These are the kinds of sacrifices that please God. (Heb 13:16 GW)
THE FOLLOWING ARE BAD AND ROTTEN FRUIT THAT SHOULD NOT BE IN OUR LIVES. DESTROY IT COMPLETELY!
According to Col 3:5: sexual immorality, impurity, evil desire, indecency, lust, and greed
According to Gal 5:19: perversion, promiscuity, idolatry, drug use, hatred, rivalry, jealousy, angry outbursts, selfish ambition, conflict, envy, drunkenness, wild partying
LET'S TAKE A LOOK AT SOME OF THE FRUIT THAT SHOULD BE IN OUR LIVES:
LOVE
… Our love should not be just words and talk; it must be true love, which shows itself in action. (1John 3:18 GNB)
Love asks for total commitment, sacrifice and devotion.
Love is patient and kind; it is not jealous or conceited or proud; love is not ill mannered or selfish or irritable; love does not keep a record of wrongs (1Cor 13:4-5 GNB)
JOY
Your presence fills me with joy and brings me pleasure forever. (Ps 16:11 GNB)
Joy and happiness are my reaction on God's presence and action in my life. It involves my body, emotions and will. I can have joy in spite of my circumstances: Even though the fig trees have no fruit and no grapes grow on the vines, even though the olive crop fails and the fields produce no grain, even though the sheep all die and the cattle stalls are empty, I will still be joyful and glad, because the LORD God is my saviour. (Hab 3:17-18 GNB)
Be glad in the Lord at all times: again I say, be glad. (Phil 4:4 BBE)
PEACE
To have peace is to experience harmony, quietness, calmness, restfulness, tranquility in your inner self.
.. because you belong to Christ Jesus, God will bless you with peace that no one can completely understand. And this peace will control the way you think and feel. (Phil 4:7 CEV)
The LORD gives perfect peace to those whose faith is firm. (Isa 26:3 CEV)
PATIENCE
Patience is to stay cool under pressure. It is the ability to wait for results, to wait for things to happen, to keep a good heart, to have a quiet mind, to be long-suffering. Patience is also to be able to keep your temper and your tongue under control.
KINDNESS
Kindness is to be friendly, pleasant and good-hearted.
Be kind and tenderhearted to one another (Eph 4:32 GNB)
Be kind and honest and you will live a long life; others will respect you and treat you fairly. (Prov 21:21 GNB)
GOODNESS
Goodness implies well doing to others.
Don't forget to do good things for others and to share what you have with them. (Heb 13:16 GW)
God has made us what we are. He has created us in Christ Jesus to live lives filled with good works that he has prepared for us to do. (Eph 2:10 GW)
Tell them to do good, to do a lot of good things, to be generous, and to share. (1Tim 6:18 GW)
FAITHFULNESS
When you are faithful you are loyal, reliable and trustworthy.
Never let go of loyalty and faithfulness. Tie them around your neck; write them on your heart. (Prov 3:3 GNB)
GENTLENESS
Gentleness includes tenderness, softness, sensitivity, politeness and meekness. It is NOT weakness or passiveness. A gentle person handles others as if they have a sticker on them that says "fragile - handle with care".
Show a gentle attitude toward everyone. (Phil 4:5 GNB)
Be humble and gentle in every way. (Eph 4:2 GW)
They should be gentle and kind to everyone. (Tit 3:2 CEV)
SELF-CONTROL
Self-control is to have self-discipline, to be in control of your emotions, your mind and your body.
But I discipline my body and keep it under control (1Cor 9:27 ESV)
Self-control is to say "no" to our own desires (Rom 8:12,13), and "put to death" our earthly desires (Col 3:5) and let the Holy Spirit control and direct us.
… AND IF WE DON'T BEAR FRUIT?
Then Jesus said, "I am the true vine, and my Father takes care of the vineyard. He removes every one of my branches that doesn't produce fruit. He also prunes every branch that does produce fruit to make it produce more fruit. (John 15:1-2 GW)
AS A TREE IN GOD'S GARDEN WE HAVE A GARDENER WHO GIVES US ANOTHER CHANCE
Then He told them a story: "A man had an apple tree planted in his front yard. He came to it expecting to find apples, but there weren't any. He said to his gardener, 'What's going on here? For three years now I've come to this tree expecting apples and not one apple have I found. Chop it down! Why waste good ground with it any longer?' "The gardener said, 'Let's give it another year. I'll dig around it and fertilize, and maybe it will produce next year; if it doesn't, then chop it down.'" (Luke 13:6-9 MSG)
Yes, Jesus is our gracious Gardner, who pleads for us not to be cut down when we don't produce fruit. He commits Himself to work in our lives (digging and fertilizing) so that we can receive a second chance.
PRAYER
Lord, make all of us like trees that grow beside a stream, that bear fruit at the right time, whose leaves do not dry up, so that our lives can glorify You, and prove that we are Your disciples. (see Ps 1:1,2)