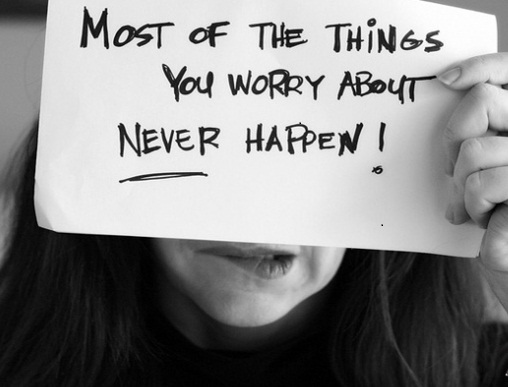 LIVE FOR TODAY, DON'T WORRY ABOUT TOMORROW; TAKE ONE DAY AT A TIME
To be free of worries today: Shut the gates to the past. Do not keep looking back to the troubles and mistakes of the past. Shut the gates to the future. Do not fear or worry about what can happen in the future. The future is today - handle today.
You cannot live in the past, or in the future; you can only live today. Everyday is a new life, a new beginning.
Prepare yourself for the future by living today to your full potential
If you worry about what may happen tomorrow and it doesn't happen, you have worried in vain. Even if it does happen, you have to worry twice.
Worry is the darkroom in which negatives can develop
THE SAME ADVICE COMES FROM THE WORD OF GOD: DON'T WORRY ABOUT TOMORROW
* "So do not worry about tomorrow, it will have enough worries of its own. There's no need to add to the troubles each day brings" (Matt 6:34 GNB)
* "Give your entire attention to what God is doing right now, and don't get worked up about what may or may not happen tomorrow. God will help you deal with whatever hard things come up when the time comes" (Matt 6:34 MSG)
* Jesus taught us to pray only for today's needs: "Give us our food for today" (Matt 6:11 CEV)
* "Don't ever worry and say, 'What are we going to eat?' or 'What are we going to drink?' or 'What are we going to wear?' Everyone is concerned about these things, and your heavenly Father certainly knows you need all of them" (Matt 6:31,32 GW)
* "So I tell you to stop worrying about what you will eat, drink, or wear" (Matt 6:25 GW)
Live for TODAY; enjoy TODAY! "This day belongs to the LORD! Let's celebrate and be glad today" (Ps 118:24 CEV)
WHAT WORRIES CAN DO TO YOU
· Worries can make you ill. You can end up with an ulcer, headaches, heart problems and stress.
· Worries can make you feel tired.
· Worries can make you sad, lead to depression and maybe even suicide.
· Worries can give you wrinkles and make you grow old too early!
· Worries awaken other negative emotions like frustration, anxiety, fear, despair, doubtfulness, insecurity and dismay.
· "I am worn out by my worries" (Ps 55:2 GNB)
· "Worry can rob you of your happiness" (Prov 12:25 GNB)
· "Worry is a heavy burden" (Prov 12:25 CEV)
· "Anxiety in a man's heart weighs him down" (Prov 12:25 ESV)
· "Don't give in to worry or anger, it only leads to trouble" (Ps 37:8)
· "The more you worry, the more likely you are to have bad dreams" (Ecc 5:3 GNB)
To worry will never solve a problem.
HOW CAN I HANDLE WORRIES?
Ask yourself: what is the worst thing that can happen?
Prepare yourself to accept the worst, should it come, and improve on it.
Get all the facts, ask yourself: what am I worried about? What can I do about it? Make a decision and act positively on that.
Ask yourself: is the situation really as bad as I think? Can I do anything to change it? If you can, start acting immediately.
Separate worries from concerns.
If a situation is a concern find out what God wants you to do and let go of the anxiety. If you can't do anything about a situation forget it, and don't worry about it!
HOW CAN I OVERCOME WORRIES?
Don't worry about things that you can do nothing about
"Can any of you add a single hour to your life by worrying?" (Matt 6:27 GW) … the answer is definitely NO. To worry about something will not change the situation at all.
Keep busy and focus on the need of other
Do something that can make someone smile. "Worry is a heavy burden, but a kind word always brings cheer" (Prov 12:25 CEV)
"Whenever you possibly can, do good to those who need it" (Prov 3:27 GNB)
Be satisfied with what you have
"So then, if we have food and clothes, that should be enough for us" (1Tim 6:8 GNB) Always count your blessings, not your troubles.
Focus on the bright side of things
Two men looked from prison bars, one saw mud, and the other saw stars. Always try to make a negative into a positive.
Slow down and focus on God
Slow down; God is still in heaven. You are not responsible for doing it all yourself, right now. "God loves you, so don't let anything worry you or frighten you" (Dan 10:19 GNB)
"If God hadn't been there for me, I never would have made it" (Ps 94:17 MSG) "The minute I said, "I'm slipping, I'm falling," Your love, God, took hold and held me fast" (Ps 94:18 MSG)
"Whenever I am anxious and worried, You comfort me and make me glad" (Ps 94:19 GNB)
You don't need to carry your own burden, God will help you
"For God has said, 'I will never leave you; I will never abandon you.' Let us be bold, then, and say, 'The Lord is my helper, I will not be afraid. What can anyone do to me?' " (Heb 13:5,6 GNB)
"If you are tired from carrying heavy burdens, come to Me and I will give you rest" (Matt 11:28 CEV)
"Take the yoke I give you. Put it on your shoulders and learn from Me. I am gentle and humble, and you will find rest" (Matt 11:29 CEV)
"Pile your troubles on God's shoulders-- He'll carry your load, He'll help you out" (Ps 55:22 MSG)
Are you wrinkled with burden? Come to Jesus for a face-lift!
Don't worry, pray
"Never worry about anything. But in every situation let God know what you need in prayers and requests while giving thanks" (Phil 4:6 GW)
"When I was really hurting, I prayed to the Lord. He answered my prayer, and took my worries away" (Ps 118:5 CEV)
"I was in terrible trouble when I called out to You, but from Your temple You heard me and answered my prayer" (2Sa 22:7 CEV)

Think positive thoughts
"Be careful how you think; your life is shaped by your thoughts" (Prov 4:23 GNB)

Do not focus all your energy and thoughts on your problems, no fill your minds with good things: "Summing it all up, friends, I'd say you'll do best by filling your minds and meditating on things true, noble, reputable, authentic, compelling, gracious--the best, not the worst; the beautiful, not the ugly; things to praise, not things to curse" (Phil 4:8 MSG)
Be the best of whatever YOU are:
"If you can't be a highway, then just be a trail,
If you can't be the sun, be a star;
It isn't by size that you win or you fail -
Be the best of whatever you are!"
Receive strength and calmness
"Christ gives me the strength to face anything" (Phil 4:13 CEV) "Whatever I have, wherever I am, I can make it through anything in the One who makes me who I am" (Phil 4:13 MSG)
God gives you the calmness to accept the things that you cannot change, the courage to change the things that you can, and the wisdom to tell the difference.
God's grace is more than your worries
There's a lot of pain
But a lot more healing
There's a lot of trouble
But a lot more peace
There's a lot of hate
But a lot more loving
There's a lot of sin
But a lot more grace
There's a lot of fear
But a lot more freedom
There's a lot of darkness
But a lot more light
There's a lot of cloud
But a lot more vision
There's a lot of perishing
But a lot more life
Oh outrageous grace
Love unfurled by heaven's hand
Oh outrageous grace
Through my Jesus I can stand
Trust God with all your problems - He is the only One who can help you with EVERYTHING
When I fall, He lifts me up!
When I fail, He forgives!
When I am weak, He is strong!
When I am lost, He is the way!
When I am afraid, He is my courage!
When I stumble, He steadies me!
When I am hurt, He heals me!
When I am broken, He mends me!
When I am blind, He leads me!
When I am hungry, He feeds me!
When I face trials, He is with me!
When I face persecution, He shields me!
When I face problems, He comforts me!
When I face loss, He provides for me!
When I face Death, He carries me Home!