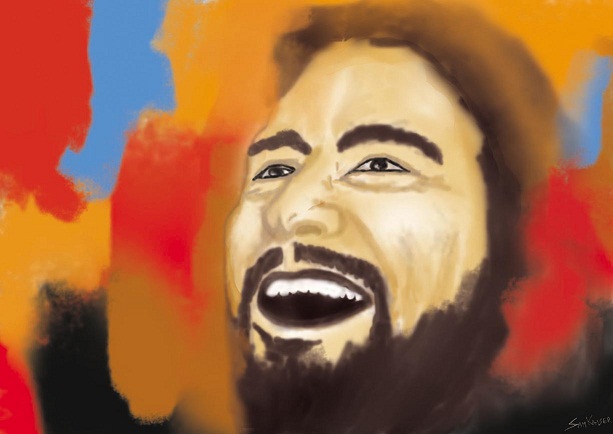 THE SMILE OF GOD AS THE GOAL OF YOUR LIFE
To please God, to do what He wants us to do, must be the first and most important purpose of our life.
"Figure out what will please Christ, and then do it" (Eph 5:10 MSG)
"More than anything else, however, we want to please Him" (2Cor 5:9 GNB)
When we please God, He will smile on us!
WHAT WILL MAKE HIM SMILE?

(Summary from "Purpose Driven Life", by Rick Warren)
God smiles when we love Him supremely
He wants our love. He loves us and wants us to love Him back. "I want your constant love, not your animal sacrifices" (Hos 6:6 GNB); "Jesus answered, 'Love the Lord your God with all your heart, with all your soul, and with all your mind.' " (Mat 22:37 GNB)
God smiles when we trust Him completely
Trusting God completely means having faith that He knows what is best for my life.
"He takes pleasure in those who honour Him, in those who trust in His constant love" (Psa 147:11 GNB)
"No one can please God without faith" (Heb 11:6 GNB)
God smiles when we obey Him wholeheartedly
You can now see that we please God by what we do and not only by what we believe" (Jam 2:24 CEV)
"If you love Me, you will obey My commandments" (Joh 14:15 GNB)
"…. Then My favour will shine on you like the morning sun" (Is 58:8)
God smiles when we praise and thank Him continually
"I will praise God's name in song and glorify Him with thanksgiving. This will please the Lord" (Ps 69:30,31 NIV)
Always praise God for who He is, and thank Him for what He has done. When we offer praise and thanksgiving to God, our own hearts will be filled with joy.
God smiles when we use our abilities
When we do the things that God created us to do, it brings Him pleasure. Do not hide your abilities or try to be someone else. You bring Him enjoyment by being you, by being the person whom He has created.
Remember: anytime you reject any part of yourself, you are rejecting God's wisdom and sovereignty in creating you.
"Whatever you do, work at it with all your heart, as though you were working for the Lord" (Col 3:23 GNB)
God is not only pleased with you when you do "spiritual" activities, like reading the Bible, praying, going to church or sharing your faith. He is concerned with every detail of your life. You can wash dishes, prepare food, do ironing, write a letter, plant a garden or raise a child, all for the glory of God. Everything you do can be spending time with God, if He is invited to be a part of it, and if you stay aware of His presence. Keeping yourself busy in this way will please God.
Will you make pleasing God the goal of your life? There is nothing that God won't do for the person totally absorbed with this goal.
GOD SMILES ON YOU, BECAUSE YOU ARE SPECIAL AND IMPORTANT TO HIM
You are who you are for a reason
You're part of an intricate plan
You're a precious and perfect unique design
Called God's special woman or man
You look like you look for a reason
Our God made no mistake
He knit you together within the womb
You're just what He wanted to make
The parents you had were the ones He chose
And no matter how you may feel
They were custom-designed with God's plan in mind
And they bear the Master's seal
No, that trauma you faced was not easy
And God wept that it hurt you so
But it was allowed to shape your heart
So that into His likeness you'd grow
You are who you are for a reason
You've been formed by the Master's rod
You are who you are, beloved
Because there is a God!
- poem by Russell Kelfer
God created you
Remember: you are not an accident! Long before you were conceived by your parents, you were conceived in the mind of God.
"I am your Creator. You were in My care even before you were born" (Isa 44:2 CEV)
"Long before He laid down earth's foundations, He had us in mind, had settled on us as the focus of His love" (Eph 1:4 MSG)
God has a purpose for your life
"For I know the plans I have for you, declares the LORD, plans for wholeness … to give you a future and a hope" (Jer 29:11 ESV)
"He Himself fixed beforehand the exact times and the limits of the places where they would live" (Act 17:26 GNB)
"The days of my life (were) all prepared before I'd even lived one day" (Ps 139:16 MSG)
"Before you were born, I set you apart for My holy purpose" (Jer 1:5 GW)
God knows everything about you
"He pays even greater attention to you, down to the last detail - even numbering the hairs on your head" (Mat 10:30 MSG)
"You know me inside and out, you know every bone in my body; You know exactly how I was made, bit by bit, how I was sculpted from nothing into something" (Ps 139:15 MSG)
God takes care of you
"I am your God and will take care of you until you are old and your hair is gray. I made you and will care for you; I will give you help and rescue you" (Isa 46:4 GNB)
"Since God assured us: 'I'll never let you down, never walk off and leave you', we can boldly quote, God is there, ready to help" (Heb 13:5, 6 MSG)
You are precious and valuable to Him
"I will not let you go out of My memory. See, your name is marked on My hands" (Isa 49:15, 16 BBE)
"He celebrates and sings because of you, and He will refresh your life with His love" (Zep 3:17 CEV)