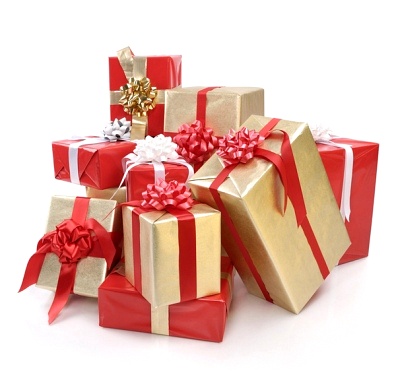 SEARCHING FOR THE PERFECT CHRISTMAS GIFT
What do you want for Christmas? This a question that is often asked in these days before Christmas. Colourful advertisements from the shops are inviting us to buy, to wrap, to give … to want, to desire, to wish.

There are some people that are hard to shop for-
- You have no idea what they need or want
- You don't know what size or colour
- They are just plain picky
- They already have everything!
GOD HAS THE PERFECT GIFT FOR EVERYONE!
God knows exactly what we need. He gives us good and perfect gifts. What God gives is a gift -
"everybody needs one"
"one size fits all"
"you can't do without it"
"easy to find"
"a free gift"
· The gift of the Saviour
The gift is for you:
This very day … a Saviour was born for you. He is Christ the Lord. (Luke 2:11 CEV) - the gift of the Saviour, Jesus Christ, is especially for YOU.
The gift was promised:
A Child will be born for us. A Son will be given to us … He will be named: Wonderful Counselour, Mighty God, Everlasting Father, Prince of Peace. (Isa 9:6 GW)
The gift came at the right time:
But when the right time finally came, God sent his own Son. (Gal 4:4 GNB)
· The gift of eternal life
When you accept Jesus as Saviour, as the One who paid for your sins on the cross, you also receive real, everlasting life: But God's gift is real life, eternal life, delivered by Jesus, our Master. (Rom 6:23 MSG)
For God loved the world so much that He gave his only Son, so that everyone who believes in Him may not die but have eternal life. (John 3:16 GNB)
A promise from Jesus: I give them eternal life, and they shall never die. No one can snatch them away from Me. (John 10:28 GNB)
· The gift of adoption into God's family
But to all who did receive Him, who believed in his name, He gave the right to become children of God (John 1:12 ESV)
All of you are God's children because of your faith in Christ Jesus. (Gal 3:26 CEV)
· The gift of the Holy Spirit
… and you will receive God's gift, the Holy Spirit. (Acts 2:38 GNB)
The Holy Spirit is a Helper, Teacher, Comforter who lives in you, who empowers you and guides you.
I will ask the Father, and He will give you another Helper, who will stay with you forever. He is the Spirit, who reveals the truth about God. (John 14:16-17 GNB)
The Helper, the Holy Spirit, whom the Father will send in my name, will teach you everything and make you remember all that I have told you. (John 14:26 GNB)
What do you do with your gift?
I think everybody has had the experience of searching for some special gift for a child and then after all that effort seeing the child spend more time playing with the box the gift came in than the gift itself. Maybe the feeling you have at that time describes the feeling God must have about some of His children with their attitude towards His gifts to us.
· Thank God
Thank God for his gift that is too wonderful for words! (2Cor 9:15 CEV)
Let us praise God for his glorious grace, for the free gift He gave us in his dear Son! (Eph 1:6 GNB)
· Use it
Each one, as a good manager of God's different gifts, must use for the good of others the special gift he has received from God. (1Pet 4:10-11 GNB)
· Add to it
So don't lose a minute in building on what you've been given, complementing your basic faith with good character, spiritual understanding, alert discipline, passionate patience, reverent wonder, warm friendliness, and generous love, each dimension fitting into and developing the others. (2Pet 1:5-7 MSG)
· Share it
So never be ashamed to tell others about our Lord (2Tim 1:8 GW)
THE REAL CHRISTMAS STORY ENDS AT THE CROSS
It was the week before Christmas. Parking spaces were hard to come by. There were long lines, crowded stores, rude people, and grossly inflated prices. In one long checkout line, one man was heard to say, "They should kill the guy who started Christmas." One wise and godly woman in the line said, "They did- they hung Him on a cross." Therein lies the REAL Christmas story.
OUR GREATEST NEED AT CHRISTMAS
If our greatest need had been INFORMATION
God would have sent us an educator

If our greatest need had been TECHNOLOGY
God would have sent us a scientist

If our greatest need had been MONEY
God would have sent us an economist

If our greatest need had been PLEASURE
God would have sent us an entertainer

But our greatest need was FORGIVENESS
so God sent us a Saviour.
WHY JESUS IS BETTER THAN SANTA CLAUS
Santa lives at the North Pole...
JESUS is everywhere.
Santa rides in a sleigh...
JESUS rides on the wind and walks on the water.
Santa comes but once a year...
JESUS is an ever present help.
Santa fills your stockings with goodies...
JESUS supplies all your needs.
Santa comes down your chimney uninvited...
JESUS stands at your door and knocks, and then enters your heart when invited.
You have to wait in line to see Santa...
JESUS is as close as the mention of His name.
Santa lets you sit on his lap...
JESUS lets you rest in His arms.
Santa doesn't know your name, all he can say is "Hi little boy or girl, what's your name?"...
JESUS knew our name before we were born. Not only does He know our name, He knows our address too. He knows our history and future and He even knows how many hairs are on our heads.
All Santa can offer is HO HO HO...
JESUS offers health, help and hope.
Santa says "You better not cry"...
JESUS says "Cast all your burdens on me for I care for you."
Santa's little helpers make toys...
JESUS makes new life, mends wounded hearts, repairs broken homes and builds mansions.
Santa may make you chuckle but...
JESUS gives you joy that is your strength.
While Santa puts gifts under your tree...
JESUS became our gift and died on a tree...the cross.
THE CHRISTMAS TEN COMMANDMENTS
The following item appeared in a church newsletter and contains some good advice that will help us keep selfishness in check this Christmas:
I. Thou shalt not leave "Christ" out of Christmas, making it "Xmas." To some, "X" is unknown.
II. Thou shalt prepare thy soul for Christmas. Spend not so much on gifts that thy soul is forgotten.
III. Thou shalt not let Santa Claus replace Christ, thus robbing the day of its spiritual reality.
IV. Thou shalt not burden the shop girl, the mailman, and the merchant with complaints and demands.
V. Thou shalt give thyself with thy gift. This will increase its value a hundred fold, and he who
receiveth it shall treasure it forever.
VI. Thou shalt not value gifts received by their cost. Even the least expensive may signify love,
and that is more priceless than silver and gold.
VII. Thou shalt not neglect the needy. Share thy blessings with many who will go hungry and
cold unless thou are generous.
VIII. Thou shalt not neglect thy church. Its services highlight the true meaning of the season.
IX. Thou shalt be as a little child. Not until thou has become in spirit as a little one art
thou ready to enter into the kingdom of Heaven.
X. Thou shalt give thy heart to Christ. Let Him be at the top of thy Christmas list
Would you like to know Jesus, and receive the gift of salvation?
You can have peace and find hope and know forgiveness through a personal relationship with Jesus Christ.
You can receive Christ right now by faith through prayer. Praying is simply talking to God. God knows your heart and is not so concerned with your words as He is with the attitude of your heart.
Here's a suggested prayer:
Lord Jesus, I want to know You personally. Thank You for dying on the cross for my sins. I open the door of my life to You and ask You to come in as my Saviour and Lord. Take control of my life. Thank You for forgiving my sins and giving me eternal life. Bring peace to my world this Christmas. Make me the kind of person You want me to be.
If this prayer expresses the desire of your heart, pray it right now and Christ will come into your life as He promised. If you invited Jesus Christ into your life, thank God often that He is in your life, that He will never leave you and that you have eternal life.