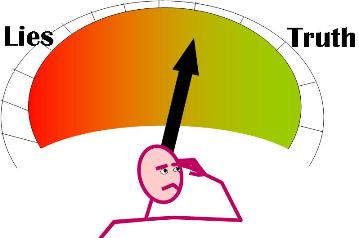 LIVE IN THE TRUTH
When someone lives in the truth she is an honest and fair person, with a clean mind, someone with integrity. She is reliable and trustworthy, and her live is transparent, she won't pretend to be someone or something that she is not - "what you see is what you get". Someone who lives in the truth will never manipulate others with words or deeds. She always speaks the whole truth and is a reliable witness. She will keep her promises and her yes means yes.
DO YOU LIVE IN THE TRUTH?
According to the dictionary truth is a state of being real, true and genuine. The truth is ALL the facts about something.
TESTIMONY ON TRUTHFUL LIPS
Can you give the same testimony that Paul gives?
· As a Christian, I'm telling you the truth. I'm not lying. The Holy Spirit, along with my own thoughts, supports me in this. (Rom 9:1 GW)
· We are sure that our consciences are clear because we want to live honourably in every way. (Heb 13:18 GW)

Can you proclaim these words like David did?
I am full of hate and disgust for false words. (Ps 119:163 BBE)
GOD'S COMMAND TO US: SPEAK ONLY THE TRUTH
· These are the things you should do: Speak the truth to one another. (Zec 8:16 GNB)
· … let your Yes be Yes, and your No be No (James 5:12 BBE)
· Do not tell lies about others. (Exo 20:16 CEV)
· Never lie when you testify about your neighbour. (Exo 20:16 GW)
· Keep yourselves far from any false business. (Exo 23:7 BBE)
Always keep to the truth, even if it will make you unpopular, or can bring you harm. Remember: you don't speak the truth when you do not tell the whole story, withhold information, or if you tell a "white lie" to protect yourself or cover for someone.
SPEAKING THE TRUTH MAKES YOU RELIABLE AND TRUSTWORTHY
· A reliable witness always tells the truth, but an unreliable one tells nothing but lies. (Prov 14:5 GNB)
· … a person who speaks truth is respected. (Prov 21:28 MSG)
THE TRUTH BUILDS FRIENDSHIPS
· An honest answer is like a warm hug. (Prov 24:26 MSG)
· Giving an honest answer is a sign of true friendship. (Prov 24:26 CEV)
If people know that you will never speak false about them and that what you say is always honest and true, thy will gladly accept your friendship.
SPEAKING THE TRUTH GIVES YOU SAFETY AND SECURITY
· Honest people are safe and secure, but the dishonest will be caught. (Prov 10:9 GNB)
· Honesty can keep you safe, but if you can't be trusted, you trap yourself. (Prov 11:6 CEV)
If you speak only the truth all the time, there's no need to be afraid to be caught out, or to come into an embarrassing situation. You will feel safe and free. The Bible says: "the truth will set you free" (John 8:32)
THE TRUTH SAFES LIVES
A witness saves lives when he tells the truth. (Prov 14:25 GNB)
THE TRUTH KEEPS YOU ON TRACK
The integrity of the honest keeps them on track. (Prov 11:3 MSG)
THE TRUTH LASTS FOREVER
The word of truth lasts forever (Prov 12:19 GW)
SPEAKING THE TRUTH WILL BRING SPIRITUAL GROWTH
Love should always make us tell the truth. Then we will grow in every way and be more like Christ. (Eph 4:15 CEV)
THE TRUTH BRINGS HAPPINESS
Do you want to be happy? Then stop saying cruel things and quit telling lies. (1Pet 3:10 CEV)
TRUTH IN THE WORKPLACE
God cares about honesty in the workplace; your business is his business. (Prov 16:11 MSG)
THE TRUTH MAKES THE DEVIL BLUSH
Thomas Fuller said: "Truth makes the devil blush"; let's speak the truth and shame the devil!
DO NOT TEACH YOUR TONGUE TO LIE
Lying is both unjust and unkind, and tends to destroy all faith and friendship among people. Lying makes us like the devil … according to the Bible he is the father of all lies (see John 8:44)
Someone said: "The truth may hurt, but a lie can cut a deeper wound"
· Don't talk out of both sides of your mouth; avoid careless banter, white lies, and gossip. (Prov 4:24 MSG)
· Never say anything that isn't true. Have nothing to do with lies and misleading words. (Prov 4:24 GNB)
… LIES ARE SOON FOUND OUT
You can lie for a while about something, but the truth has a way to come out - sometimes when you least expect it!
· Truth will last forever; lies are soon found out. (Prov 12:19 CEV)
· A false witness will not go unpunished, and he who breathes out lies will not escape. (Prov 19:5 ESV)
LIES CAUSE TROUBLE
· Someone who holds back the truth causes trouble (Prov 10:10 GNB)
· Dishonesty does you no good, and telling lies will get you in trouble. (Prov 17:20 CEV)
LIES LEAD TO DESTRUCTION
· Destruction is in all your words, O false tongue. (Ps 52:4 BBE)
· … the twisted ways of the false will be their destruction. (Prov 11:3 BBE)
LIES ARE DISGRACEFUL
Honest people hate lies, but the words of wicked people are shameful and disgraceful. (Prov 13:5 GNB)
LIES ARE BETRAYAL AND LEAD TO INJUSTICE
· A witness saves lives when he tells the truth; when he tells lies, he betrays people. (Prov 14:25 GNB)
· When you tell the truth, justice is done, but lies lead to injustice. (Prove 12:17 GAB)
YOU END UP LYING TO YOURSELF
No more lies, no more pretense. Tell your neighbour the truth. In Christ's body we're all connected to each other, after all. When you lie to others, you end up lying to yourself. (Eph 4:25 MSG)
FATHER OF THE LIE
From the very beginning the Devil was a murderer and has never been on the side of truth, because there is no truth in him. When he tells a lie, he is only doing what is natural to him, because he is a liar and the father of all lies. (John 8:44 GNB)
THE LORD HATES LIES
· I hate lying, injustice, and violence. (Zec 8:17 GNB)
· There are seven things that the Lord hates and cannot tolerate: A proud look, a lying tongue, hands that kill innocent people, a mind that thinks up wicked plans, feet that hurry off to do evil, a witness who tells one lie after another, and someone who stirs up trouble among friends. (Prov 6:16 GNB)
FILL YOUR MIND WITH THE TRUTH
Fill your minds with those things that are good and that deserve praise: things that are true, noble, right, pure, lovely, and honorable. (Phil 4:8 GNB)
"You cannot change the truth, but the truth can change you" - so, keep your mind on the truth!
HEART-SEARCHING
Let us put ourselves to a test on the truth. Answer the following questions for yourself:
· Do I always speak the whole truth?
· Am I honest when I give a compliment?
· Do I always mean what I say?
· Do I speak the truth even if I know it can bring me into trouble?
· If I tell about something that happened, do I leave things out, or exaggerate to make it sound more serious?
· Do I sometimes tell a lie and call it a "white lie"?
· Do I carry any burden because of a lie that I had told?
· Do I feel that honesty is a worthy principle, but don't apply it 100%?
CONFESS AND COME CLEAN
Maybe you found that too many of your answers are YES, and you feel guilty and sorry for lies that you told or lived. Just take a few quiet minutes now and confess it to the Lord, tell Him about any lie, say that you are sorry and make a decision to live in the truth from now on. In 1 John 1:9 we find this good news: But if we confess our sins to God, He will keep his promise and do what is right: He will forgive us our sins and purify us from all our wrongdoing.
NOW IS THE TIME FOR TRUTHFUL LIPS!
"Lying makes a problem part of the future; truth makes a problem part of the past" (~Rick Pitino)
NOW is the best time to make a decision to speak the truth, ALWAYS. "Truth has no special time of its own. Its hour is now - always"
THE TRUTH IS PRECIOUS - MAKE SURE THAT YOU HAVE IT
Buy truth whatever it may cost, sell it not, whatever may be offered
Buy truth - don't sell it for love or money (Prov 23:23 MSG)