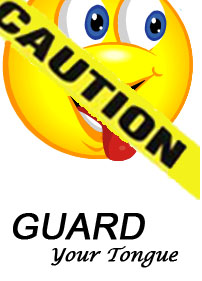 THE TONGUE
The tongue is a very small part of our bodies, but a very mighty instrument. The Bible compares it with the rudder of a ship. Although a ship is very big and is driven by strong winds, the pilot can steer the ship by only using the small rudder. In the same way the tongue (the things that we say, the words that we speak, the way we talk) can have a huge impact in our lives and in the lives of people around us.
THE BIBLE SAYS
… sensible talk can save your life. (Prov 14:3)
A gentle tongue is a tree of life. (Prov 15:4)
THE TONGUE HAS POWER
Words kill, words give life; they're either poison or fruit--you choose. (Prov 18:21)
Their tongues are like deadly arrows. (Jer 9:8)
Their words burn like a flaming fire. (Prov 16:27)
A word out of your mouth may seem of no account, but it can accomplish nearly anything--or destroy it! It only takes a spark, remember, to set off a forest fire. A careless or wrongly placed word out of your mouth can do that. By our speech we can ruin the world, turn harmony to chaos, throw mud on a reputation, send the whole world up in smoke and go up in smoke with it, smoke right from the pit of hell. (James 3:5-6)
KEEP WATCH AND CONTROL YOUR TONGUE!
Let us keep watch over the door of our lips, think twice before we speak, because "The right word at the right time is like precious gold set in silver". (Prov 25:11)
If you can control your tongue, you are mature and able to control your whole body. (James 3:2, CEV)
Good people THINK before they answer. (Prov 15:28)
DO NOT USE YOUR TONGUE TO HURT PEOPLE….
Sharp words cut like a sword, but words of wisdom heal. (Prov 12:18)
… deceitful words can really hurt. (Prov 15:4)

…USE YOUR WORDS TO COMFORT, HELP & BUILD PEOPLE
Kind words are like honey-- they cheer you up and make you feel strong. (Prov 16:24)
Kind words are good medicine; kind words heal and help. (Prov 15:4)
Do not use harmful words, but only helpful words, the kind that build up and provide what is needed, so that what you say will do good to those who hear you.
(Eph 4:29); say only what helps, each word a gift.
DO NOT USE YOUR TONGUE TO QUARREL ….
Starting a quarrel is like opening a floodgate, so stop before the argument gets out of control. (Prov 17:14)
Avoiding a quarrel is honourable. After all, any stubborn fool can start a fight. (Prov 20:3)
… USE YOUR WORDS TO MAKE PEACE AND FORGIVE OTHERS
Be kind to one another, tender-hearted, forgiving one another, as God in Christ forgave you. (Eph 4:32)
So let's agree to use all our energy in getting along with each other. Help others with encouraging words; don't drag them down by finding fault. (Rom 14:20)
DO NOT USE YOUR TONGUE TO GOSSIP …
Gossip is no good! It causes hard feelings and comes between friends. (Prov 16:28)
Gossip is spread by wicked people; they stir up trouble and break up friendships. (Prov 16:28)
Listening to gossip is like eating cheap candy; do you really want junk like that in your belly? (Prov 18:8)
…. SPEAK WORDS OF WISDOM
A person's words can be a source of wisdom, deep as the ocean, fresh as a flowing stream. (Prov 18:4)
The words of good people are wise, and they are always fair.
(Ps 37:30)
DO NOT USE YOUR TONGUE TO SAY CRUEL OR DIRTY THINGS
Let no corrupting talk come out of your mouths. (Eph 4:29)
Watch the way you talk. Let nothing foul or dirty come out of your mouth. (Eph 4:29); Stop all your dirty talk.
You must no longer say insulting or cruel things about others. (Col 3:8)
DO NOT USE YOUR TONGUE TO LIE …
Lying is contrary to both the law of truth and the law of love, it is both unjust and unkind, and tends to destroy all faith and friendship among people. Lying makes us like the devil … according to the Bible he is the father of all lies (see Joh 8:44)
Stop lying and start telling each other the truth. (Eph 4:25)
No more lies, no more pretence. Tell your neighbour the truth. In Christ's body we're all connected to each other, after all. When you lie to others, you end up lying to yourself. (Eph 4:25)
Do you want to be happy? Then stop saying cruel things and quit telling lies. (1Pet 3:10)
… USE YOUR WORDS TO SPEAK THE TRUTH
Truth will last forever; lies are soon found out. (Prov 12:19)
Let your Yes be Yes, and your No be No. (James 5:12)
Love should always make us tell the truth. Then we will grow in every way and be more like Christ. (Eph 4:15)
DO NOT USE YOUR TONGUE TO CURSE ….
Stop being bitter and angry and mad at others. Don't yell at one another or curse each other or ever be rude. (Eph 4:31)
With our tongues we bless God our Father; with the same tongues we curse the very men and women he made in his image. Curses and blessings out of the same mouth! My friends, this can't go on. (James 3:9-10)
… USE YOUR WORDS TO BLESS
Be agreeable, be sympathetic, be loving, be compassionate, be humble. That goes for all of you, no exceptions. No retaliation. No sharp-tongued sarcasm. Instead, bless--that's your job, to bless. (1Pet 3:8-9)
USE YOUR WORDS TO PRAISE AND THANK GOD
O Lord, let my lips be open, so that my mouth may make clear your praise. (Ps 51:15)
My mouth will praise You with joyful lips. (Ps 63:5)
My mouth will be full of your praise and glory all the day. (Ps 71:8)
With my mouth I will give great thanks to the LORD. (Ps 109:30)

USE YOUR WORDS TO CONFESS THE NAME OF JESUS
Because, if you say with your mouth that Jesus is Lord, and have faith in your heart that God has made Him come back from the dead, you will have salvation.
(Rom 10:9)
.. so that at the name of Jesus every knee should bow, in heaven and on earth and under the earth, and every tongue confess that Jesus Christ is Lord. (Phil 2:10, 11)
BE CAREFUL: YOUR WORDS SHOW WHAT IS IN YOUR HEART
From the mouth of the evil-doer comes a stream of evil things. (Prov 15:28)
The heart of the wise man is the teacher of his mouth. (Prov 16:23)
For the mouth speaks what the heart is full of. (Mat 12:34)
MAKE YOUR WORDS GOOD - YOU WILL BE GLAD YOU DID! (Prov 18:20)
The LORD .. is pleased with friendly words. (Prov 15:26)
ARE YOU WILLING TO MAKE THIS DECISION?
My lips will never say anything evil, my tongue will never tell a lie. (Job 27:4)

PRAYER
O LORD, set a guard at my mouth. Keep watch over the door of my lips. (Ps 141:3)