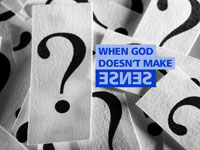 QUESTIONS WITH NO ANSWERS?
Do you also struggle with questions like:
- Why does God allow THIS to happen to me? Why me?
- Why does God allow children to die?
- Why does God allow innocent people to be murdered?
- Why doesn't God heal me?
- Why doesn't God always answer my prayers?
- Why does God allow suffering and poverty in the world?
- Where is God, why doesn't He help me?
At some stage of our lives all of us battle with trials and heartaches, with unanswered questions, suffering and illness, that we cannot understand and that seem to be unfair. We find ourselves in situations where we question God, where we don't understand God and His plans, where it feels as if He is far away … where it seems that God doesn't make sense.
GOD DOESN'T ALWAYS GIVE ANSWERS
God doesn't always give answers to everything, or explains everything. We cannot demand answers from Him.
The Bible says:
- It is the glory of God to conceal things. (Prov 25:2)
- Certainly, you are a God who has hidden Himself. (Isa 45:15)
- There are some things that the LORD our God has kept secret. (Deut 29:29)
BIBLICAL WHY's
In the Bible we also read about people who had difficulties to find answers or to make sense out of their circumstances, for instance:
David
"How much longer will You forget me, LORD? Forever? How much longer will You hide yourself from me? How long must I endure trouble? How long will sorrow fill my heart day and night? How long will my enemies triumph over me? Look at me, O LORD my God, and answer me". (Ps 13:1-3)
Job
"How I wish I knew where to find Him, and knew how to go where He is. I would state my case before Him and present all the arguments in my favour. I want to know what He would say and how He would answer me". (Job 23:3-5)
Asaph
I spend the night in deep thought; I meditate, and this is what I ask myself: "Will the Lord always reject us? Will He never again be pleased with us? Has He stopped loving us? Does His promise no longer stand? Has God forgotten to be merciful? Has anger taken the place of His compassion?" (Ps 77:6-9)
Jesus
"My God, my God, why have You abandoned Me?" (Matt 27:4)
REST IN THE FACT THAT THERE ARE THINGS THAT WE DON'T UNDERSTAND
- Our view of God is too small, His power and His wisdom cannot even be imagined by us.
- We cannot lean on our ability to make the pieces of life fit; we do not see the whole picture, we do not have all the information. "Now we see a blurred image in a mirror … Now my knowledge is incomplete" (1Cor 13:12)
- We cannot explain God's infinite mind or understand the way He works in our lives.
- "As you do not know the path of the wind, or how the body is formed in a mother's womb, so you cannot understand the work of God, the Maker of all things" (Ecc 11:5 )
- God's riches, wisdom, and knowledge are so deep that it is impossible to explain His decisions or to understand His ways. "Who knows how the Lord thinks? Who can become his adviser?" (Rom 11:33-34)
So you see that these passages from the Bible also imply that many of our "why" questions to the Lord will have to remain unanswered, that there will be times when circumstances don't add up … when God doesn't appear to make sense!
IN CONFUSING TIMES …
When you experience times where you ask "why", and things doesn't make sense:
- Do not turn you back on God
In hard times choose to focus on God and depend on Him instead of yourself. "You'll never know that God is all you need, until God is all you've got" (Rick Warren).
So keep your mind on Jesus….. Then you won't get discouraged and give up. (Heb 12:3)
- Stay focused on God's plan, not on your pain or problem.
"If you look at the world you'll be disturbed. If you look within, you'll be depressed. But if you look at Christ, you'll be at rest" (Corrie ten Boom)
- Cry out to Him
Then we cried out for help to the LORD. He heard us and saw our suffering, hardship, and misery. (Deut 26:7)
- Bow in prayer
When life is heavy and hard to take, go off by yourself. Enter the silence. Bow in prayer. Don't ask questions. Wait for hope to appear. (Lam 3:28-29)
- Trust Him
Trust Him - He knows what He is doing. Faith is to believe even when the questions are not answered and even when it seems that God doesn't make sense.
GOD DOES WHAT IS BEST FOR US
We know that God is always at work for the good of everyone who loves Him. (Rom 8:28)
God sees a bigger picture of life. He understands our personalities, our weaknesses and our anxieties, and He cares about our ultimate good. We can just "let go and let God".
"I know what I'm doing. I have it all planned out - plans to take care of you, not abandon you, plans to give you the future you hope for". (Jer 29:11)
FOUR STEPPING STONES
In his book "When God doesn't make sense" James Dobson gives the following advice in handling difficult situations:
1) God is present in our lives even when He seems deaf or on an extended leave of absence.
James Dobson tells this story: "When I was a boy, I heard a mystery program on radio that captured my imagination. It told the story of a man who was condemned to solitary confinement in a pitch-black cell. The only thing he had to occupy his mind was a marble, which he threw repeatedly against the walls. He spent his hours listening to the marble as it bounced and rolled around the room. Then he would grope in the darkness until he found his precious toy.
One day, the prisoner threw his marble upward-but it failed to come down. Only silence echoed through the darkness. He was deeply disturbed by the "evaporation" of the marble and his inability to explain its disappearance. Finally he went berserk, pulled out all his hair, and died.
When the prison officials came to remove his body, a guard noticed something caught in a huge spider's web in the upper corner of the room.
That's strange, he thought, I wonder how a marble got up there!"
This story illustrates that there may be questions that we cannot answer, but that there are definitely valid answers to them. Someone once said "with God, even when nothing is happening - something is happening"
2) God's timing is perfect, even when He appears catastrophically late.
One of the things that can easily destroy a person's faith, is timing … we want instant responses from God, instant answers to our prayers, instant solutions to our problems, and often God doesn't work in our time-frame. He is never in a hurry, but always on time!
3) For reasons that are impossible to explain, we human beings are incredibly precious to God.
It is wonderful to know from Scripture that God knows each one of us personally, and that we are in His mind both day and night.
"You have looked deep into my heart, LORD, and You know all about me. You know when I am resting or when I am working, and from heaven You discover my thoughts. You notice everything I do and everywhere I go. Before I even speak a word, You know what I will say, and with your powerful arm You protect me from every side. I can't understand all of this! Such wonderful knowledge is far above me" (Ps 139:1-6)
If we are this precious to Him, would He not have our best interest at heart?
4) Your arms are too short to box with God. Don't try it!
God is God! He is the Almighty, Sovereign God, His power and His wisdom, His love and His grace cannot even be imagined by us …
"Greatness, power, splendor, glory, and majesty are Yours, LORD, because everything in heaven and on earth is Yours. The kingdom is Yours, LORD, and You are honoured as head of all things. (1Chron 29:11)
"If we truly understood the majesty of the Lord and the depth of His love for us, we would certainly accept those times when He defies human logic and sensibilities. Indeed, that is what we MUST do!"
EXPECT CONFUSING EXPERIENCES, USE THEM AS OPPORTUNITIES TO GROW
Times of difficulties, of suffering and distress will come for everybody. Welcome them as friends and take them as opportunities to grow in your faith and dependence on God.
My friends, be glad, even if you have a lot of trouble. You know that you learn to endure by having your faith tested. (James 1:2-3 CEV)
REMEMBER
God didn't promise days without pain, laughter without sorrow, sun without rain, but He DID promise strength for the day, comfort for the tears and light for the way.