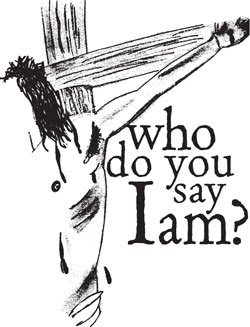 …. WHO DO YOU SAY IS JESUS?
Jesus asked His disciples: "What about you?" He asked them. "Who do you say I am?" (Mat 16:15 GNB)
PETER'S ANSWER
Simon Peter said, "You're the Christ, the Messiah, the Son of the living God." (Mat 16:16 MSG)
Do you also believe this about Jesus?
JESUS IS LORD
There is only one Lord, Jesus Christ, through whom all things were created and through whom we live (1Cor 8:6 GNB), … and all will openly proclaim that Jesus Christ is Lord. (Phil 2:11 GNB)
JESUS IS GOD
Christ is exactly like God (Col 1:15 CEV), Christ was truly God. (Phil 2:6 CEV)
JESUS IS THE SAVIOUR OF ALL
The Son of Man came to seek and to save the lost (Luke 19:10 GNB), … we know that He really is the Saviour of the world. (John 4:42 GNB)
JESUS FORGIVES ALL SINS
And Christ Himself is the means by which our sins are forgiven, and not our sins only, but also the sins of everyone. (1John 2:2 GNB)
I told you the most important part of the message exactly as it was told to me. That part is: Christ died for our sins, as the Scriptures say. He was buried, and three days later He was raised to life, as the Scriptures say. (1Cor 15:3-4 CEV)
… the Son of Man has authority on earth to forgive sins. (Luke 5:24 GNB)
JESUS GIVES ETERNAL LIFE
The payment for sin is death, but the gift that God freely gives is everlasting life found in Christ Jesus our Lord. (Rom 6:23 GW)
I give them eternal life, and they shall never die. No one can snatch them away from Me. (John 10:28 GNB)
… everyone who has faith in Me has eternal life. (Joh 6:47 CEV)
Those who believe in Me will live, even though they die. (John 11:25 GNB)
JESUS GIVES US HOPE
…He has given us new life and a hope that lives on. (1Pet 1:3 CEV)
All nations will place their hope in Him. (Mat 12:21 CEV)
JESUS IS THE HEALER
After the sun had set, people with all kinds of diseases were brought to Jesus. He put his hands on each one of them and healed them. (Luke 4:40 CEV)
Jesus also healed every kind of disease and sickness. (Mat 9:35 CEV)
It is by his wounds that you have been healed. (1Pet 2:24 GNB)
JESUS IS….
The good Shepherd
I am the good Shepherd, who is willing to die for the sheep. (John 10:11 GNB)
God has raised from death our Lord Jesus, who is the Great Shepherd of the sheep as the result of his blood. (Heb 13:20 GNB)
The doorway to heaven
I am the door: if any man goes in through Me he will have salvation. (John 10:9 BBE)
Jesus answered him, "I am the way, the truth, and the life; no one goes to the Father except by Me. (John 14:6 GNB)
The light
Once again Jesus spoke to the people. This time He said, "I am the light for the world! Follow Me, and you won't be walking in the dark. You will have the light that gives life." (John 8:12 CEV)
The living bread
"I am the bread of life," Jesus told them. "Those who come to Me will never be hungry; those who believe in Me will never be thirsty. (John 6:35 GNB)
Our advocate and counselor
…. we have Someone who pleads with the Father on our behalf - Jesus Christ, the righteous One. (1John 2:1 GNB)
For to us a Child is born, to us a Son is given; … and his name shall be called Wonderful Counselor, Mighty God, Everlasting Father, Prince of Peace. (Isaiah 9:6 ESV)
A Friend and Helper
… we have a friend and helper with the Father, Jesus Christ, the upright one: (1John 2:1 BBE)
I do not call you servants any longer, … I call you friends. (John 15:15 GNB)
ACCEPT JESUS AS LORD AND SAVIOUR AND LEARN WHO YOU ARE IN HIM
(From: The Atonement Child - Francine Rivers)
There is nothing, absolutely nothing, that the Lord won't forgive - and forget. He promises that as far as the east is from the west, so far has He removed your transgressions from you. He died for you and rose again so that you can have new life in Him. All you have to do is accept Him. His love is not earned but given as a free gift.
That's my prayer for you: that you will know and accept Jesus Christ as your Saviour and Lord and learn who you are in Him.
In Christ, you are His child. You are raised up with Him. You are forgiven. In Christ, you are a new creation, the very temple of the Holy Spirit. You are delivered from the power of darkness. You are redeemed, blessed, holy, and sanctified. You are victorious and set free from sin and death. You are more than a conqueror. You are strong in the Lord, able to withstand any storm through Him. You are sealed with the Holy Spirit of promise. You are accepted. You are complete in Him. You are crucified with Him, free from condemnation, and reconciled to God Almighty. Through Jesus you are qualified to share in his inheritance. You are a fellow citizen with the saints and the household of God. You are build upon the foundation of the apostles and prophets, and Jesus Christ is your Cornerstone, your High Priest. You are born of God, and the evil one cannot touch you. You are overtaken by blessings. You are called by God. You are chosen. You are an ambassador for Christ, a messenger of the Good News. You are loved. You have everlasting life. You can do all things in Christ Jesus. His grace and mercy are beyond anything I can explain in words. The Bible is filled with His love for you, and his promises.
Please allow yourself to experience this love and forgiveness, to live in it, to walk with Him. Let go of yourself, and cry out to the Lord, and He will hear and answer. He knows all about you. He knows everything you've done, where you've been, what you've said, how you've felt, and He loves you with an everlasting love.
The Holy One, Jesus Christ, the most mighty God, holds out his hand to you right now. All you have to do is open the door of your heart and invite Him in.
INVITE JESUS INTO YOUR LIFE AND HEART BY PRAYING THE FOLLOWING:
Heavenly Father
I have lived my life my way
I have done many wrong things
I repent of all my sin
Please forgive me
I trust You now to be my Saviour
Thank you for dying in my place
I ask you now for your gift of eternal life
I give my life to You and want You to be my Lord
Help me to live for You by the power of the Holy Spirit
These things I pray in Jesus name
Amen
ALL I WANT IS CHRIST
Nothing is as wonderful as knowing Christ Jesus my Lord. I have given up everything else and count it all as garbage. All I want is Christ and to know that I belong to Him. (Phil 3:8-9 CEV)