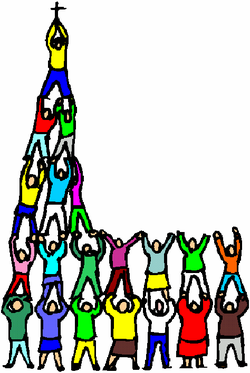 YOUR BODY
We are part of a body conscious world. There are hundreds of products available to clean up, paint up and fix-up our bodies. Some people even undergo very expensive surgery to "fix" their bodies: a smaller nose, flatter ears, a tummy-tuck or a face-lift. Most people are concerned about their physical shape, and they are always on a diet, or exercising in the gym, running on the treadmill, lifting weights - all just to have a beautiful body. We also have a great concern for the physical health of our bodies: we watch the cholesterol intake, reduce the salt, eat more roughage, etc.
BUT: the day that you became a Christian something "new" happened to your body. Your body became the temple of God, the Holy Spirit. Your body is now the home of the living God Himself!
Jesus answered him, "Those who love Me will do what I say. My Father will love them, and We will go to them and make Our home with them". (John 14:23)
Don't you know that your body is the temple of the Holy Spirit, who lives in you and who was given to you by God? You do not belong to yourselves but to God. (1Cor 6:19)
THE TEMPLE
What we read about the temple of God in the Old Testament, we can apply to our lives today:
THE TEMPLE WAS CAREFULLY PLANNED AND BUILT
When King Solomon built the temple God gave detailed instructions about everything. All the best wood, bronze, silver an gold, valuable stones and marble were used to build the temple:
I have made every effort to prepare materials for the Temple-gold, silver, bronze, iron, timber, precious stones and gems, stones for mosaics, and quantities of marble. (1Chron 29:2)
I have given 115 tons of the finest gold and 265 tons of pure silver for decorating the walls of the Temple (1Chron 29:4)
We as the temple of God are also made of the best building materials, formed according to God's plan. God made us wonderfully, and perfect; He made us in His own image, we are like Him (Gen 1:26):
You made us a little lower than You Yourself, and You have crowned us with glory and honour. (Ps 8:5)
Oh yes, You shaped me first inside, then out; You formed me in my mother's womb… Body and soul, I am marvelously made! … You know exactly how I was made, bit by bit, how I was sculpted from nothing into something. (Ps 139:13-15)

As God's temple you are beautiful and special - God has chosen YOU as a dwelling place.
THE TEMPLE IS FILLED WITH THE GLORY OF GOD
… and the dazzling light of the LORD's presence filled the Temple. (2Chron 7:1) … the glory of the Lord filled the Temple.
After King Solomon had finished the building of the temple, God's presence filled it. When you give your life to God, He will come and fill you with His dazzling light. His power, His love and His majesty will be IN you.
May this light of God that is IN you, shines through you:
You are like light for the whole world. … your light must shine before people, so that they will see the good things you do and praise your Father in heaven. (Mat 5:14-16)
THE TEMPLE IS DEDICATED TO GOD
I want to build the temple for the Name of the LORD my God. I want to dedicate it to Him (2Chron 2:4)
As God's temple we belong to Him. We must dedicate ourselves to Him; He must be honoured in our lives, He must be the centre of everything.
… I encourage you to offer your bodies as living sacrifices, dedicated to God and pleasing to Him. (Rom 12:1)
So use your body to honour God. (1Cor 6:20)
THE TEMPLE IS A HOLY PLACE
I am building a temple to honour the LORD my God. It will be a holy place (2Chron 2:4)
I have chosen and declared this temple holy .. (2Chron 7:16)
In the same way we are declared holy by God. God is holy, and He can only live in a holy place, a place that is clean, that is set aside just for Him.
Before the creation of the world, He chose us through Christ to be holy and perfect in His presence. (Eph 1:4)
But because the God who called you is holy you must be holy in every aspect of your life. (1Pet 1:15)

Are you a holy temple for God?
We are not supposed to do indecent things with our bodies. We are to use them for the Lord who is in charge of our bodies. (1Cor 6:13)
The blood of Jesus can wash and clean us from every sin. Confess every unholy aspect of your life, and ask Jesus to forgive you. You can do it right now, and be a holy temple.
GOD IS WORSHIPPED IN THE TEMPLE
King Solomon decided to build a temple where the LORD would be worshiped (2Chron 2:1)
… I have chosen it and consecrated it as the place where I will be worshiped forever. (2Chron 7:16)
When God inhabits in our bodies, He wants it to be a place where He is worshipped constantly by what we say and by what we do, by how we act and how we react in difficult situations, by where we go and what we think about.
Love and worship Him continually with all your heart, all your soul, all your mind, all your strength. (see Mark 12:30)
GOD WATCHES OVER HIS TEMPLE AND PROTECTS IT
I will watch over it and protect it for all time. (2Chron 7:16)
God lives in us, He is always there to protect us, to care for us and to provide for us.
… whoever remains under the protection of the Almighty, can say to Him, "You are my defender and protector. You are my God; in you I trust." He will keep you safe from all hidden dangers and from all deadly diseases. He will cover you with His wings; you will be safe in His care; His faithfulness will protect and defend you. (Ps 91:1-4)
GOD LISTENS TO THE PRAYERS MADE IN HIS TEMPLE
Now My eyes will be open and My ears attentive to the prayer that is made in this place. (2Chron 7:15)
We can speak to the One who lives in our body-temple - He listens, He answers. He knows our thoughts, He knows our desires, and He will meet your needs.
Don't worry about anything, but in all your prayers ask God for what you need, always asking Him with a thankful heart. (Phil 4:6)
As soon as He hears you, He will answer you. (Isa 30:19)
Do you sometimes feel that you cannot pray or you don't know how to pray? The Spirit is in you, and He is praying for you:
In certain ways we are weak, but the Spirit is here to help us. For example, when we don't know what to pray for, the Spirit prays for us in ways that cannot be put into words. (Rom 8:26)
He does our praying in and for us, making prayer out of our wordless sighs, our aching groans. (Rom 8:26)
THE TEMPLE IS A PLACE WHERE FORGIVENESS IS FOUND
… if they pray to Me and repent and turn away from the evil they have been doing, then I will hear them in heaven, forgive their sins (2Chron 7:14)
Thank God, His forgiveness is unconditional and final. He forgives AND forgets.
May others also find forgiveness from us! Forgive one another as quickly and thoroughly as God in Christ forgave you. (Eph 4:32)
MY NAME IS STAMPED ON IT
Believe Me, I've chosen and sanctified this Temple that you have built: My Name is stamped on it forever; My eyes are on it and My heart in it always. (2Chron 7:16)
This is what God said about the Temple that Solomon built for Him, but this is also what He says about you today … if you accept Jesus as your Saviour, He gives you the Holy Spirit as stamp of ownership:
And you also became God's people when you heard the true message, the Good News that brought you salvation. You believed in Christ, and God put His stamp of ownership on you by giving you the Holy Spirit He had promised. (Eph 1:13)
You are His temple and His Name is stamped on you forever.
THE HOLY SPIRIT, WHO LIVES IN YOU …
· Gives new life (John 3:3-5)
· Gives you the assurance that you are a child of God (Rom 8:16)
· Teaches you about everything (1 John 2:27)
· Gives you courage and power (Micah 3:8)
· Makes you holy and dedicated to God (Rom 15:16)
· Is your Helper, your Friend, your Comforter (John 14:16)
· Produces fruit in you: love, joy, peace, patience, kindness, goodness, faithfulness, humility, self-control (Gal 5:22)
· Gives you gifts to use in God's service (1Cor 12:3-11)
SURRENDER YOUR BODY
GLORIFY GOD
YOU ARE HIS TEMPLE